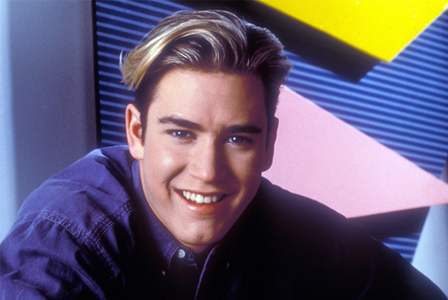 If you didn't have at least a teensy crush on Mark-Paul Gosselaar as Zack Morris in Saved by the Bell, well, we'd like to meet you.
This prankster
rings our bell
Because if there were ever a recipe for a high school crush (hint: It involves orneriness and light, dreamy eyes), MPG knew it by heart, and American girls everywhere swooned in response. Mark-Paul, we'll share fries at The Maxx with you any day!
Why we love him
The epitome of a charming high school boy, Mark-Paul's role as Zack Morris made an indelible imprint on us — we wish we were the one asked to the Costume Ball!
Mark-Paul Gosselaar
Born: March 1, 1974
Hometown: Panorama City, California
Height: 6'
He was the coolest mini-adult in school

Let's be real: Zack Morris ran Bayside High, not Mr. Belding, a point made even clearer when Zack strolled the halls clutching a brick-sized cell phone and orchestrating elaborate plots to get himself out of — and into — trouble. After all, the guy could freeze time by calling "Time out!" And lest we forget, he had his own band, Zack Attack.
Was there any character who was more fun on TV at that time? Has there been since? If only we were so lucky to have Zack Morris as our high school classmate...
We got to follow Zack's whole young-adult life
Mark-Paul was game to reprise his Zack Morris role for several years. After Good Morning, Miss Bliss became Saved by the Bell, the series ran until 1993 before spawning Saved by the Bell: The College Years, Saved by the Bell: Wedding in Las Vegas and then Saved by the Bell: The New Class, which had a new cast of characters, but MPG reprised his role as Zack for one episode.
"I'm extremely proud of the work that I did on Saved by the Bell, and I'm extremely proud of all the work I've accomplished throughout my career — minus a few things I wish weren't on my resume."
"I'm extremely proud of the work that I did on Saved by the Bell, and I'm extremely proud of all the work I've accomplished throughout my career — minus a few things I wish weren't on my resume," he told StarPulse. "But for the most part, I don't want to disappoint my fans. I respect my fans and I respect the people that watch all my shows — whether it be Saved by the Bell or NYPD Blue. I think it's cool musicians can always play their old songs and people expect them to play them."
And SBTB is one "old" show that we hold dear!
He made us want to be Kelly Kapowski
Only a special woman could inspire Zack Morris to keep a cardboard cutout of her in his bedroom, and that was cheerleader/swimmer/All-American girl Kelly Kapowski, played by Tiffani-Amber Thiessen.
Even juicier: As a guest on Conan O'Brien's show, MPG revealed that he, in fact, dated all three of his female costars — Elizabeth Berkley, Lark Voorhies, and Thiessen — at different points throughout the show. Maybe a little bit of mischievous Zack Morris rubbed off on Mark-Paul!
What he's up to now: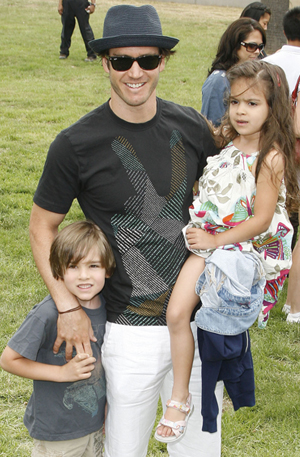 Even though we're not sure where Zack ended up, post-Bayside, Mark-Paul took on a series of darker movie and TV roles, including a date rapist in the TV film She Cried No, alongside Candace Cameron, a detective on NYPD Blue, and a love interest of Mary-Louise Parker's in the TV drama Weeds. Most recently, he's played the title character Peter Bash in the law series Franklin & Bash — alongside Clueless's Breckin Meyer. Double the hotness! The series was renewed for a second season, which will air starting June 5.
In a retro throwback, Mark-Paul appeared on Late Night with Jimmy Fallon as Zack Morris — without breaking character! — in 2009 to promote his role in the TNT drama Raising the Bar. He looked exactly the same, which made the special appearance even sweeter.
Another important role for MPG: That of "dad." He had two children, son Michael and daughter Ava, with his actress/model ex-wife Lisa Ann Russell, whom he met while filming the wedding episode of Saved by the Bell. The pair divorced in mid-2011, and he proposed this past August to advertising exec Catriona McGinn, a tall blonde stunner.
Thank you for the memories, Mark-Paul!
Photo credits: NBC Universal via WENN.com, Adriana M. Barraza/WENN.com