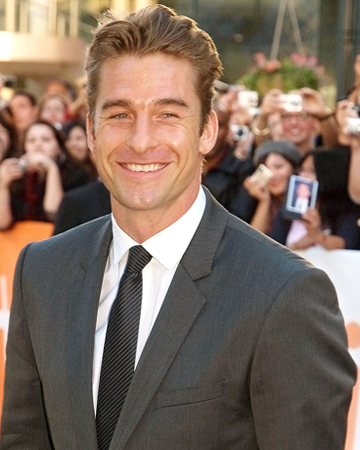 He's still our school
-girl crush
As far as high school crushes go, Scott Speedman had charismatic jock perfection down so well that it skyrocketed him to stardom when he graced TV screens across America playing Ben Covington on J.J. Abrams' show Felicity.
It's been 10 years since the show wrapped, but Scott has only grown more handsome — and now we get to gaze at him on the small screen as Channing Tatum's romantic rival, opposite Rachel McAdams in The Vow, on DVD tomorrow. Channing plus Scott... Does it get any hotter than that?
Why we love him
After playing Felicity's high school crush, hot blond Scott Speedman secured a special place in our hearts. Now, every time we see his face onscreen, it's a heaping dose of sexy nostalgia.

Scott Speedman
Born: Sept. 1, 1975
Hometown: London, England
Height: 5' 11"
He'll always be Ben from Felicity to us
Scott's arguably best-known work? His role as crush-worthy Ben Covington, opposite Keri Russell on Felicity. As you may well remember, Ben was the impetus for Felicity Porter to ditch her Stanford University plans to follow him to New York. With those chiseled jock-y good looks and that blond hair, it's not hard to see why Scott can make otherwise smart women make spur-of-the-moment decisions.
"We always joke about — me and my friends — about doing a Felicity movie, and I would be, like, so overweight and working as a nurse somewhere [laughs]," he told Moviefone. "I don't know, maybe a drug addict. Trying to rebound, coming out of rehab, trying to get his life together after a broken marriage... I don't know, I'm just trying to think of what's an interesting place to start for the character. If you're finding him now, he's got to be at a low point so we can get him back to a high point. We need him to recover, we need Felicity to come in and help him out or something."
Aw, we hate to think of Ben at a low point, but if Felicity isn't available, we'll rescue you, Scott!
He's as laid-back as can be
When Felicity hit its zenith of popularity in the late 1990s, Scott lived the high life for a bit, even dating Hollywood darling Gwyneth Paltrow. After the series ended in 2002, though, Scott took a step back from superstardom, choosing to do mostly small parts (aside from the Underworld movies) and bum around New York. "I was always ambivalent about this [acting] thing," he told the Daily Beast. "I just wanted to have fun for a while."
Now, he plays a mighty good looking foil to Channing Tatum in The Vow, as Rachel McAdams' ex-fiancé whom she tries to reconnect with while suffering from amnesia. Acting aside, when Scott's not on a set, he's enjoying the little things in life:
"I do a lot of hiking. I play a lot of basketball," he says. "I do a lot of hanging out with friends. I manage to fill my time, although that's the challenge of being an actor in Los Angeles. I keep busy. I'm busy finding work. You get there and start hustling."
The idea of relaxing right next to Scott — or taking him on in a mean game of man-on-man hoops — sounds pretty appealing!
He was a hot '90s Ned Nickerson
"I did six episodes of that and I had no idea what I was doing. I was a horrible actor. "
It's great when our favorite girlhood novels come to life, and it's even better when the male characters are smokin'! Scott filled the shoes of girl detective Nancy Drew's boyfriend Ned Nickerson in a 1995 TV series. With his wavy blond hair and casual '90s duds, Scott embodied the ultimate fantasy supportive boyfriend for adventurous young women everywhere.
"I did six episodes of that and I had no idea what I was doing," he told Just Jared. "I was a horrible actor. This director was really nice to me and taught me a lot, and was shooting Goosebumps one day and he asked me to come down and do a day to play a cop. I showed up and put glasses on, of course with Ryan Gosling so that was pretty hilarious."
Scott and the Gos? Be still our hearts!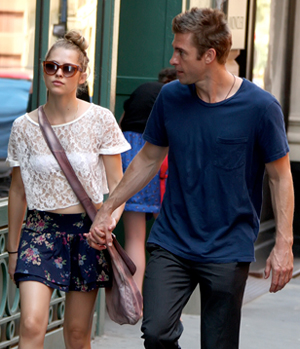 Scott Speedman's relationship status
Suave Scott has romanced both co-star Keri Russell and A-lister Gwyneth Paltrow, but most recently he's been linked with blonde Aussie actress Teresa Palmer (she is said to have dated both Zac Efron and Russell Brand — wow). The pair confirmed they were an item last April and have since been spotted jet-setting everywhere from the Sundance film festival to Coachella in Palm Springs this past month.
Have fun, you crazy kids! (Though we'll still hold out hope for a chance liplock with Scott...)
Photo credits: WENN.com, Touchstone Television Productions, LLC, WENN.com, Anthony Dixon/WENN.com