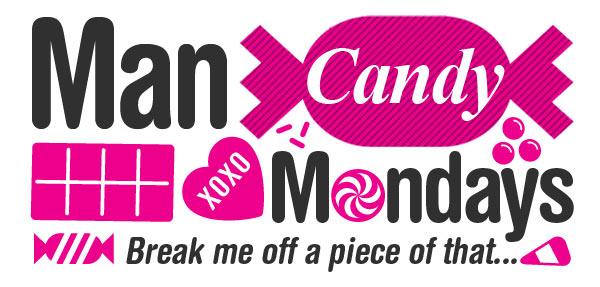 Blond, built and chiseled at 6-foot-5-inches, Armie Hammer is practically He-Man (or at least a close approximation of how we thought the animated hero would look when we were little). In other words: hot, strapping and utterly manly.
He's our storybook hero come to life
Now, he'll inhabit another character we first met in childhood: The prince in Snow White — more specifically, Prince Andrew Alcott in the comedic film Mirror Mirror, starring Julia Roberts as the Evil Queen and Lily Collins as Snow White, which just premiered in theaters. We'll take a kiss from this hunk to bring us back to life!
Why we love him
This fine specimen of a man is our personal superhero -- he's brawny, witty and he's not afraid to stand up for justice.


Armie Hammer
Birth date: Aug. 28, 1986
Hometown: Los Angeles, California
Height: 6'5"
He was double trouble in The Social Network
We know we're not supposed to root for the Winklevoss twins (or, as the film version of Mark Zuckerberg said, the Winklevi) in the whole Facebook lawsuit debacle, but what red-blooded woman didn't feel a twinge of longing when she saw Armie Hammer (playing alongside himself!) rowing on the crew team?
Armie himself says he went into the role with neutrality but emerged with sympathy for the guys: "[H]aving walked away from the project and kind of putting that behind me, I think the twins did get a raw deal," he told Geekadelphia.
"It could have very well been a very one-dimensional character if you look at all the pieces you are given. They are blue blood aristocracy, they go to Harvard, they are rowers, which can be a pretentious crew. They have been given every opportunity and have never wanted for anything."
"I think it would be easy to create these twins as 'douchebags,' essentially. But we owed that respect to them to not turn them into clowns. They competed for this country in the Olympics, they went on to create several more internet startup companies. These are sharp guys."
And pretty easy on the eyes, thanks to Armie.
He's a Greek god, looks-wise, but wants to be more
Being tall and wildly good-looking isn't a bad lot in life — rumor has it Armie's being considered for a role as Superman, and he was also slated to play Batman in a Justice League movie before the project was scrapped. However, Armie's fighting against that hot-guy stereotype in order to score plum, heavy-hitting roles (like Leonardo Di Caprio's love interest in last year's J. Edgar).
"He's tall, he's good-looking, he's the whole thing — he's that guy."
"I realize that's one of the things I'll have to battle in my career, the fact that when I walk into the room, people do see me in a very specific way," he told New York Magazine's Vulture blog. "I have about as much control over how I look as the guy who's short and looks more like a character actor — we both have the same drive to be actors and we both have the same drive to assume these different characters, it's just harder for me to get the chance because they look at me and say, 'Oh, he's this type,' and they stamp me. 'He's tall, he's good-looking, he's the whole thing — he's that guy.' It's something that I think I'm going to have to fight against for most of my career, for people to take me seriously as an actor as opposed to a good-looking guy. It's not what I want to be known as."
We'll take you however we can get you, Armie!
He stands up for gay rights
Speaking of those choice acting parts that Armie is always gunning for, he detailed to Out magazine what it was like to kiss Di Caprio in J. Edgar — and he discusses it like a true professional would!
"It's not a big deal!" he told the mag. "It's always the first question that people ask: 'How's kissing Leo? How is it doing the gay scene?' What the f***? It's the same thing! If I do a scene with an actress, that's not the first thing that anybody asks me about, because it's kind of inappropriate. I had to shoot a machine gun in the movie, too. I don't know how to shoot a machine gun, but they hand it to you and they go, 'Shoot it,' and you go, 'OK.' There are so many more things I was thinking about in that scene than just, 'Oh my God, I'm about to kiss Leonardo Di Caprio! Oh my God, I'm about to kiss a guy.'"
Maturity: Now that's sexy.
Armie Hammer's relationship status: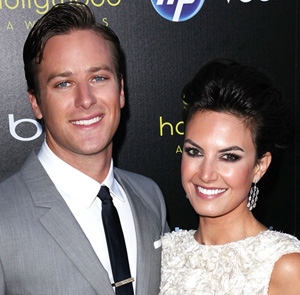 He's one committed chap! Armie has been married to TV reporter and Texas native Elizabeth Chambers, 29, since May 2010 (they met at a Hollywood gas station!).
When Seventeen magazine asked him who in his family he was closest to, he gave this adorable answer: "Geographically? My wife. Emotionally? My wife." We love it when a man gushes about his woman!
Photo credits: Mr. Blue/WENN.com, PNP/WENN.com, Apega/WENN.com, WENN.com