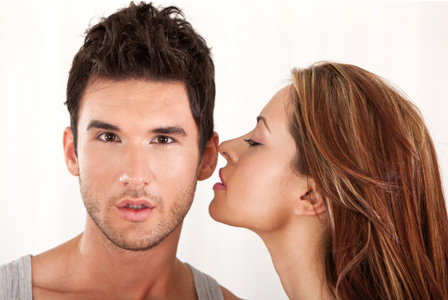 The fun thing about sex is that it usually has more to do with your brain than your body, which means foreplay can start well before any clothes come off — even prior to actually seeing your partner in the flesh.
Keep your hands to yourself
Here are a few seduction tips to maximize that space of time after you've had your first sexy thought of the day but before you're able to jump into bed — no physical touching necessary. Before you know it, you'll find yourself spending less time warming up and more time breathing hot and heavy.
Uttering a well-placed whisper
"When we get home...
it's on"
Say you're at a swanky cocktail party in your evening finery or at a company picnic or making dinner together. Any setting is a prime one for slowly leaning in, placing your lips mere centimeters from his ear, and whispering something naughty... or sweetly cheeky. Something like "I've been thinking about you all night" or "When we get home, it's on" will be a big eye-widener for your guy — and even more of an incentive to bail on a stuffy office gathering.
Send a sizzling text message
Go ahead: Sext him. Even if your teenage years are far behind you, men ages 18 all the way to 88 still enjoy a little digital flirting. Feel silly trying to think something up? Try one of these scripts: "You. Me. Bed. Tonight." or "Having dirty thoughts. Can't wait to see you at home..." or "Picturing the two of us naked and sweaty." Get creative for your man! You alone know what kind of talk really turns him on.
Shoot him your hottest photo
Even if baring it all isn't your thing, you can still send him a snap that'll whet his appetite for more. For camera-shy ladies, try taking a cell phone pic of your best feature — your lips in a sexy pucker or the small of your back in a tight dress — and sending it to him via email or instant message. No words required. The shock of it will get the wheels in his head turning, making him ready to ravish you the moment he walks in the door.
View a strategically chosen movie or TV episode
Think about your favorite sex scene ever: Is it the refrigerator sequence with Kim Basinger and Mickey Rourke in 9 1/2 Weeks? The stairwell seduction in Unfaithful? Sienna Miller straddling Daniel Craig in Layer Cake? The way Jon Hamm tied up Melinda McGraw (as Bobbie Barrett) in Mad Men? The way Jon Hamm does anything on Mad Men? Once you've got your man on the couch, slip your fave sexy film or episode into your DVD player and let that feeling overtake you — before taking your guy.
Shop for something scandalous
Make a secret plan to surprise your man with something brand-new — be it a blindfold, a pair of lacy panties or a sex toy you've heard about and wanted to try. When you're browsing the aisles of the lingerie store or sex shop, or just clicking through your options online, take pleasure in choosing the perfect item to seduce him with. When he walks into the bedroom, have your shiny new purchase handy and simply show it to him. He'll get the picture immediately — and you'll have worked yourself up just thinking about it. A win-win for both parties!
For more seduction tips
4 Tips for surprise sex
Wear this to drive him wild
5 Phrases that will turn him on