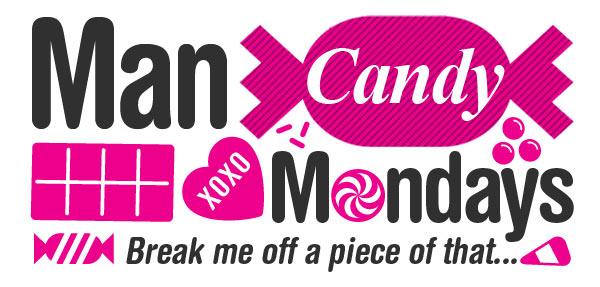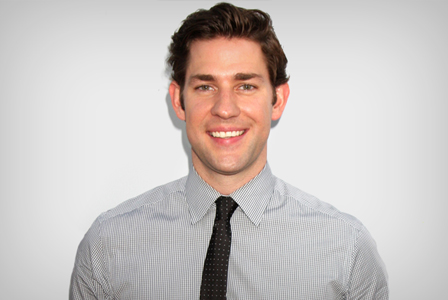 Raise your hand if you've ever fantasized about Jim from The Office. Hmmm, yep, that's about every heterosexual woman in America.
This smart hottie blows our minds
We'd like seconds of what John Krasinski brings to the table as an actor — a quick wit, an endearing grin and that sense that maybe, if you look hard enough, you can find a guy just like him in a cubicle down the hall at work. Now we'll get to see his animal instincts in Big Miracle, a movie about a real-life mission to save a family of majestic gray whales.
John Krasinski
Born: Oct. 20, 1979

Hometown: Newton, Massachusetts

Height: 6'3"
Why we love him
The lure of an average-seeming guy with above average looks draws us to John Krasinski. In fact, we can't think of a fictional boyfriend we'd rather have.
He brought one of our favorite chick lit novels to life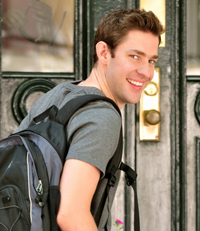 A highlight of seeing Emily Giffin's novel Something Borrowed in full color on the big screen was staring at hottie Krasinski, who played the platonic BFF to Kate Hudson and Ginnifer Goodwin's characters. Why was his character so special? Just ask John:
"I almost felt like he was the most real of all of them," he told SheKnows. "I think that he was the more fully evolved person. He seemed to be the guy who is older than his years. I think of him as someone who has already gone through a lot of his tumultuous, 'Oh my God, what should I do with my life' phase. He is a lot more secure with who he is and is able to give advice — which was actually one of the fun parts about doing this part. The best friend role is usually completely a satellite to the main character's world and just orbiting around them no matter what they do."
You could never be a satellite in our world, John!
He's a real-life smartypants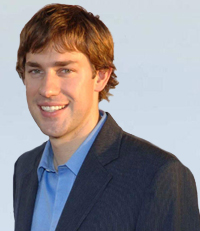 John's character Jim Halpert on The Office is never shy about showing off his quick wit — and it turns out that John himself has a whole lot of book smarts. After high school, John taught English in Costa Rica for a semester before attending Brown University. He graduated as a playwright with honors in 2001. After that, he studied at the Eugene O'Neill National Theatre Institute in Connecticut.
What did he take away from those experiences? Here's a big one: Women's Health magazine asked him if he'd ever experienced something "as good as or better than sex" (!), and this is what he said:
"Yes. I taught English in Costa Rica before I went to college. I'm not an especially outdoorsy guy, but sometimes I would spot wildlife while whitewater rafting or walking in the rainforest at 5 a.m. When you feel that kind of awe, I'd say that's it."
We're not normally that outdoorsy either, but if we had John by our side, we'd be in awe of more than the wildlife!
He makes The Office even more awesome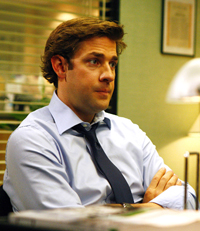 The Office's jokes alone are enough to keep us coming back for more — if only to see funny women Mindy Kaling and Ellie Kemper shine as pop duo Subtle Sexuality — but having Krasinski as window dressing to boot? Um, yes, please.
There's just something about that regular guy charm that he has in spades — and the character Jim brings that out. We love our muscle-bound men, that's for sure, but sometimes it's nice to crush on a normal-seeming cutie. John never seems like he's trying too hard, or competing with other guys to see who can be the coolest. And we like that pretty gosh darn well.
Jim Halpert, we'd like to see you in our office. And by "office" we mean boudoir.
John Krasinski's relationship status: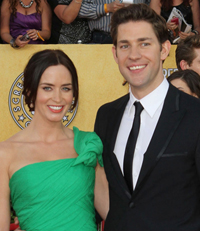 In case you needed another reason to be jealous of talented actress and beauty Emily Blunt, here you go: She and John have been married since July 10, 2010.
Their connection was instantaneous, John told Ellen DeGeneres: "It was one of those things where I wasn't really looking for a relationship and I was thinking I'd take my time in L.A. Then I met her and I was so nervous. I was like, 'Oh god, I think I'm going to fall in love with her.' As I shook her hand I went, 'I like you.'"
Emily, if you're ever up for trading lives for a day, we're game!
Photo credits: Nikki Nelson/WENN.com, Patricia Schlein/WENN.com, Nikki Nelson / WENN, NBC via WENN.com, FayesVision/WENN.com