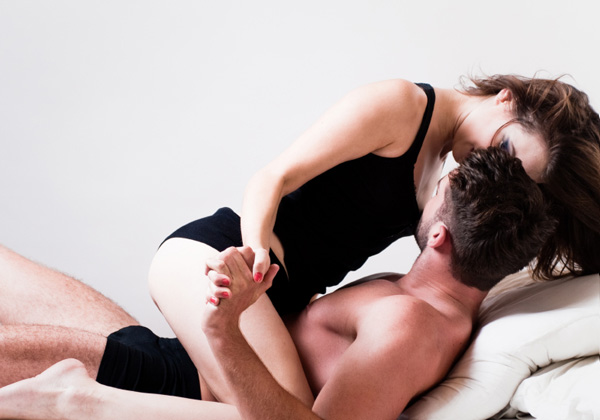 Q&A
How can women be more adventurous in the bedroom?
How to spice up your sex life
Part four of a four-part series
how to be more adventurous in bed!
Want to turn your sex life around? Dr. Laura Berman, OB/GYN, Oprah's sex and relationship expert, shared some of her tips on how you can crank up the heat in the bedroom with SheKnows. Today's topic: How can women be more adventurous in the bedroom? (Part four of a four-part series!)
Dr. Laura Berman, OB/GYN, was a frequent guest on The Oprah Winfrey Show and now has her own show called In the Bedroom on the OWN network. She talked with Jamie Beckman, relationships writer for SheKnows and editor of SheKnows' sex blog, Sexcerpts, about moves women can make to create some serious passion when making love with their partner.
Let's chat about taking the reins and becoming more adventurous in bed. (Trust us, he'll love it!)
In the video, Dr. Berman offers this sex advice:
To increase feelings of desire, try doing something novel together outside of the bedroom — even riding a roller coaster! It'll stimulate the brain's dopamine centers, bringing you closer together.
To start a conversation with your man about how to spice up your love life, bring up the subject of sex outside the bedroom, not after sex.
Tell him what you want. Dr. Berman suggests starting with something positive and building on that: "Remember last night, when you did X, Y, or Z? I love that. I'd love to have more of that, because it really turns me on."
Now take action! Try this tonight
Simply wear something different to bed. "If you're normally a T-shirt-and-undies kind of girl, don a sexy slip. Or if you're always wearing a negligee, go nude. Wearing your new threads (or no threads at all), get into bed before your guy does, and when he's snug in bed, take his hand and pull it to your body to give him a little jumpstart — he'll be rarin' to go in no time." For more tips, check out 4 Tips for surprise sex!
More with Dr. Laura Berman
How to spice up your sex life: Part 1
How to spice up your sex life: Part 2
How to spice up your sex life: Part 3