The New "Pillow Talk"
Do you hate those nights when you wish your loved one was sleeping next to you? Soon, you'll be able to closely connect with your long-distance love with designer Joanna Montgomery's Pillow Talk. Read on to find out how you can connect to your lover through a glowing pillow.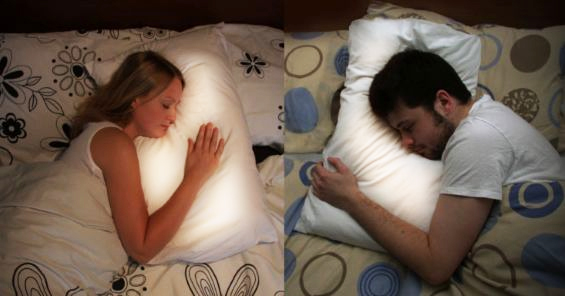 Two beating hearts... Just a world apart
Scottish designer Joanna Montgomery is a 23-year-old who attended Dundee University and finished with a First Class BSC in digital interaction design. She started her own company, Little Riot, to develop Pillow Talk, a product first brought to our attention on Sexcerpts.
How it works:
Pillow Talk helps you connect with your long-distance lover via a heartbeat through a pillow, whether you're in separate households, cities or countries. According to the Pillow Talk website:
Each person has a ring sensor they wear to bed at night, and a flat fabric panel which slots inside their pillowcase. The ring wirelessly communicates with the other person's pillow; when one person goes to bed, their lover's pillow begins to glow softly to indicate their presence. Placing your head on the pillow allows you to hear the real-time heartbeat of your loved one.
The result is an intimate interaction between two lovers, regardless of the distance between them.
Pillow Talk is not available yet, but is being further developed by Montgomery. Looks like long-distance love just got a little closer.
TELL US: When it is out and available for purchase, will you buy it?
See how the glowing pillow it works:
---
What readers are saying:
Kathleen M.: Kinda cool, but the glow needs to go. Light makes it harder to get a good night's sleep. Maybe they could integrate a switch that turns off the glow when you put your head on it.
Jennie M.: I had something very similar to this for our kids...mothers heartbeat...really was nice, helped them adjust to normal sounds, etc. after birth.
John B.: So much for the cool side of the pillow. :/
Shaunie L.: What a great idea for military families/couples!!!! I love it!!!!
Irene C.: This is genious! I would totally order this for my boyfriend. He's working oversees right now and it sucks being away from him. Especially at night.
Marjorie D.: My husband is gone for weeks, months at a time, this is an amazing way to feel close to him. Hurry!!!
Crystal H.: I think this is a great idea. My boyfriend is in the air force stationed in Wyoming and I live in new jersey. He comes home to visit when he can but I miss him when he's away. I'd love to be able to be with him even when he isn't here.
---
More on long distance relationships
4 Good things about long distance relationships
Dating long-distance: How to make it work
How to keep your man faithful