Everything You Ever Wanted To Know
Randy Fenoli knows wedding dresses. As one of the stars of TLC's Say Yes to the Dress, Fenoli helps women find their dream wedding dress every day, and he's sharing all the secrets in his new book It's All About the Dress: Savvy Secrets, Priceless Advice, and Inspiring Stories to Help you Find "The One." Naturally, we want him to spill a few of his words of wisdom with us!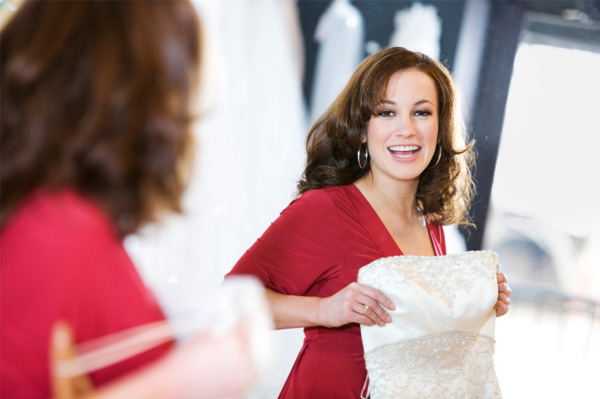 In his new book, Fenoli offers tips for brides on everything from how to make the most out of your bridal appointment to what to look for in your wedding dress. In an exclusive interview with SheKnows, he dished on some of his best tips!
Know what you want
You likely had a checklist of what you wanted in a man, and the same thing goes for finding your perfect wedding dress. Fenoli says there are five important things a bride should consider before searching for her wedding gown:
The story that the bride (and groom) is trying to tell.
What silhouettes are the most flattering.
What is the budget?
What venue is the wedding taking place at and what is the season?
Most importantly, when searching for a wedding dress the most essential question is "What dress makes you feel the most beautiful?
Don't get overhelmed by the price
Wedding dresses are expensive, that's for sure. But you don't have to sacrifice your dream dress just because it's a bit pricey. There are plenty of ways to get around paying too much for a dress, and Fenoli shared a few with us: "If a bride has a specific designer in mind, she should make an appointment during a trunk show where the designer usually offers a discount during the show. Another place to find a great deal would be during a sample sale where large discounts can be found on slightly used salon or runway samples."
One other suggestion? Get creative with your wedding budget: "Another suggestion I always make to the bride would be to try to rearrange other parts of the budget to make up the difference for the dress of your dreams."
Seek the professionals
If you're considering going it alone and forgoing an official bridal dress appointment, think again. "A bridal gown is the most important item of clothing a woman will ever wear. A good consultant can help refine the choices and guide the bride to her perfect gown," Fenoli says. "Just as a bridal gown is not like any other article of clothing, a bridal appointment is not like shopping for a party dress. Seek professional help."
Come prepared for your appointment
It seems obvious, but it's so important to come to your wedding dress appointment ready with questions, ideas etc. "Come prepared. Every bride should be able to relate her style and story to her consultant and should have a set (and honest) budget," Fenoli says. "Bringing photos of dresses you like or even inspiration photos for your big day will help a consultant guide you to your perfect gown helping to illustrate your tastes and style."
Family and friends: Proceed with caution
If you've ever seen Fenoli's show, you know how difficult a wedding dress appointment can be. Whether you bring one or five of your closest friends/relatives, there's always going to be one unhappy camper who risks to ruin it all for the bride, and we asked Fenoli how to survive it. So how many people should a bride bring with her while she's shopping for that dream dress?
"The ideal number of people a bride should bring to her appointment varies with each bride. Some brides have a large close extended family whose opinions are very important to her. Others want the experience to be between only her and her mother (or her best friend, etc.)," Fenoli says. But one thing's for sure: There are a few questions a bride should ask of herself before deciding who to bring to her appointment: "A bride has to ask herself, 'Whose opinion truly matters in my decision making and who will respect my opinion, taste, and budget?' Then she should only bring those people with her."
More wedding dress tips and trends
Choose a wedding dress neckline that's right for you
A bride's guide to wedding dress fabrics
How to embellish your wedding dress with feathers