Out-Of-The-Box
Weddings
Tradition is out and over-the-top is in. The newest trend in I Do's involves moving away from cookie cutter nuptials and towards more personalized, even outrageous affairs. From elephants marching down the aisle to a reception involving DJ's spinning the post-wedding playlist from the back speakers of a car, brides and grooms are going big, bold and totally off the wall. We took a deeper look into this new trend to see why more and more couples seem to want to spice up their big day like never before.
(page 2 of 2)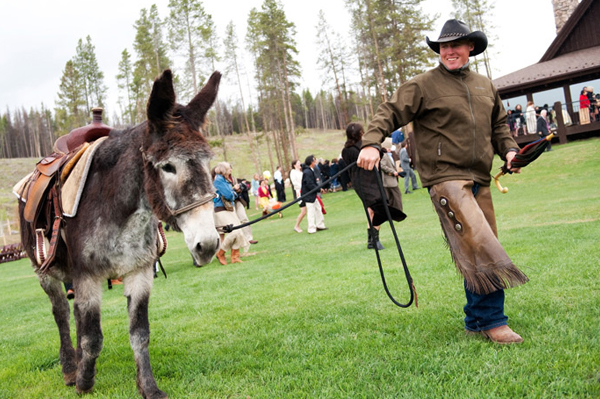 A growing trend
Both Fierst and Mijo see this emerging wedding trend as one that will continue to grow. "I just see people moving more towards the extreme," Mijo says. "Couples are going to continue raising the bar with their requests."
Richard O'Malley of event production company The O'Malley Project agrees and says many couples have come to him recently complaining that, regardless of money spent, everyone's wedding looks the same. With that in mind he decided they should do something about it. "We produced an editorial shoot that turned expectations and traditions on their ear," he says. The photo shoot for out of the box wedding ideas was meant to serve as inspiration for couples who want to push the envelope. "Think Lady Gaga meets Cirque du Soleil," he says, adding that the shoot involved couture bridal dresses made completely from balloons, flowers wrapped in metal, over-the-top hair and makeup and completely original decor. He doesn't expect brides to say "I do" wearing nothing but balloons, but he does want to show people that creativity counts when planning your big day – and that you shouldn't be afraid of planning a wedding that shows off your personality.
Getting what you want
Mijo's advice to couples who are thinking about going outside the box or who have some non-traditional requests,  is to talk to a planner or company who has the resources and experience to assist you and access to vendors who can make all of your requests – from traditional to outrageous – a reality.
Kara Daly of Pick Me Floral and Event Design agrees and is also seeing more couples wanting to inject some new life into their nuptials. One bride she worked with last season couldn't decide between a Colorado ranch wedding and a Nicaraguan beach wedding – so they combined the two, complete with a wedding parade led by a donkey named Flash. She shares her advice for planning an out-of-the-box ceremony, explaining that when you start to imagine your wedding, there are two ways to do it.
The traditional approach is to create a guest list and a budget and plan from there, but the modern approach is to establish the look and feel you want for your wedding, and that best represents your relationship. Discuss family traditions (for both of your families as well as the traditions that you would like to start for your marriage) and then start interviewing for a wedding planner who listens to what you and your fiancé want. "It's your day; you get one chance to do this the way you'd like, so make sure the team you build around you listens to you!"
Tell us

What was the best wedding you've been to? What made it great?

Share with us in the comments section below!
More wedding tips & trends
Crafty and creative wedding invitations
Top 5 celebrity wedding trends
Find a new something blue: Trendy ideas