Budding bouquet trends
It's time to talk bouquets. SheKnows turned to Sara Jenkins Sutton, president of Topiarius Urban Garden and Floral Design in Chicago to get the latest and greatest trends in wedding bouquets. She gave us the scoop on 12 of her favorite looks for unforgettable wedding bouquets, and we couldn't agree with her more. You might even love your bouquet too much to toss it over your shoulder!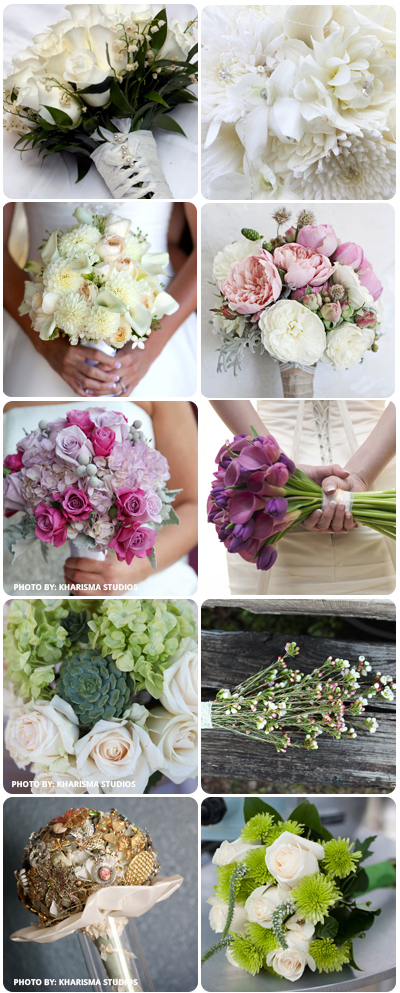 Flower choice
If you're not sure where to start as far as your bouquet is concerned, Sutton suggests incorporating flowers that have special significance to you and your man. Think about using your birth month flower (or his) or some blooms from the first bouquet your fiancé gave you.
Mix it up
Rather than getting fixated on one specific flower, opt for a combination of flowers and colors in your bouquet. If you want some uniformity, pick a color theme or a seasonal mix of flowers to maintain elegant yet eye-catching continuity.
Get sentimental
Incorporating something that has meaning to you into your wedding is becoming more and more of a must for brides. We love Sutton's idea of wrapping the handle of your bouquet with a piece of the dress or veil of a loved one – like your mom, grandmother or even a BFF who recently tied the knot.
Look into lockets
Adding a locket with the photo of a loved one is a great way to include a special guest who could not be in attendance. Couples could also choose a picture of themselves from early in the relationship, their children, even their pets as a way to really personalize the bouquet.
Go green
Wedding bouquets come alive with the addition of lush green leaves, Sutton says. Don't be afraid to add color and volume by integrating greenery like wispy bear grass or long and leafy lily grass. The contrast will brighten up your bouquet and add depth to the overall look.
Ditch the handle
Instead of carrying your flowers tied together with something standard like ribbon or lace, opt for something more creative and personal. Attach your bevy of blooms to a clutch, a book, a fan or any object with special meaning to you and your groom.
Up next: More budding bouquet trends >>