Celebs Making
Love Last
Staying together can be hard in the best of times, let alone when the whole world is watching and dissecting your every move. We don't know how celebrity couples manage to make it work under such intense scrutiny, but more than a few do. We've picked out those who impress us the most.
(page 4 of 4)
Jennifer Garner & Ben Affleck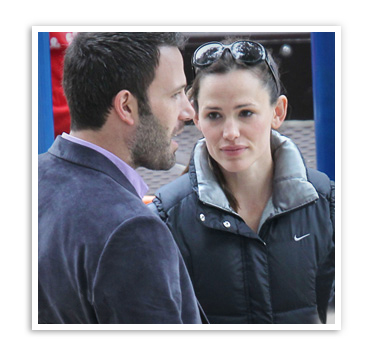 Though Affleck has had to work hard to shed his Hollywood player image and shake off the tabloids (especially after his whirlwind romance with that other Jennifer we all know and love), he's managed to come into his own as a director and family man. Married since 2005, these two mega-star parents to two beautiful little girls are rarely on the wrong end of a salacious tabloid story. They have managed to beat the odds to become one of the strongest A-list pairings today.
Photo credit: WENN.com
Who is your favorite celebrity couple?

Share with us in the comments section below!
More about celeb couples
Celebrity couples we'd like to reunite
10 Celebrity dream team couples
10 Celeb couples who never should have hooked up