Being Intimate
Vulnerability and intimacy are two words that create stress for most humans. To experience intimacy on deeper and more profound levels, one must experience vulnerability. By integrating the following five types of intimacy within your relationship, you can reduce the stress of vulnerability and attain deeper levels of intimacy.
(page 5 of 5)
Physical intimacy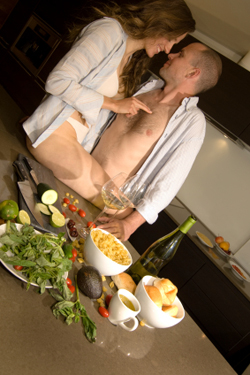 Physical intimacy is enhanced through the vulnerability in taking a risk and sharing things that are unnerving.
The rewards for those risks are stronger love bonds and a passionate,  profound love that you can share for a lifetime.
5 Ways to experience physical intimacy:
Give 20 non-sexual touches per day.
Have spontaneous sex at least once a month.
Ask your partner to tell you something new that he would like to try; you answer the same question, and then do it!
Light aromatherapy candles around the house (sensual and romantic scents), and invite your spouse to share a candlelight bubble bath with a glass of wine and quiet conversation in the tub.
Call, text or send flowers and tell your partner how much you love him and that you are thinking of him.
More tips on getting physical
Restart your sexual engine
Join Shay Pausa on the Daily Dish as she discusses ways to restart your sex drive.
More couple time ideas: