Being Intimate
Vulnerability and intimacy are two words that create stress for most humans. To experience intimacy on deeper and more profound levels, one must experience vulnerability. By integrating the following five types of intimacy within your relationship, you can reduce the stress of vulnerability and attain deeper levels of intimacy.
(page 2 of 5)
Social intimacy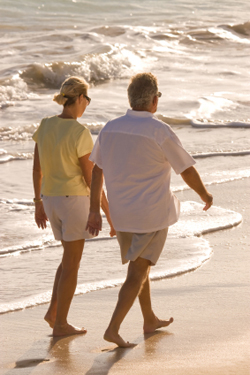 Social intimacy is greatly intertwined with the other aspects of intimacy.
If you take the time to share experiences together, you can grow in other areas of intimacy. You never know what life experiences can bring to you personally or as a couple.
5 Ways to experience social intimacy:
Have a date night one night per week.
Go for a walk on the beach, watch a sunset or experience some quiet time together.
Participate in some activity outside of your normal routine to build "together experiences" and memories.
Do something you would not normally do that your partner enjoys, and ask the same of him.
Remember that just because you are married or that you are involved in a long-term relationship, courtship never ends! Treat every day as if you were in the beginning stages of your relationship, and enjoy the newness that every day brings.
Up next: Creating spiritual intimacy >>