The Mermaid Dress
At OneWed.com, we've noticed a definite revival one wedding dress silhouette in particular: the mermaid. Like a real mermaid, the mermaid dress is half and half: half sheath and half ball gown. But this silhouette has come a long way since the 1990s when it first became popular.
(page 4 of 4)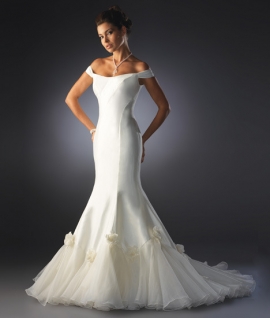 Simple & elegant
A plain and simple look such as this one, also from Bellissima bridal, is elegant for those with more confidence.
One final note: Because the mermaid silhouette is floor length, it can be worn with any shoe type. Because the dress is frequently tight from the knees down to the calves, however, pairing it with very high heels can be dangerous for walking.
more wedding help
Find your perfect wedding dress silhouette
Find the best bridal shoes for your wedding dress
Start your wedding website