Get Over Him!
We've all gone through bad breakups, and we move on in different ways. Sometimes, it takes a tub of ice cream and a few martinis; other times, it takes serious therapy. We talked to four real women who were in long-term relationships and got dumped. Wait'll you read how each of them got over her ex!
(page 4 of 4)
Father knows best
"I'm dating his dad!"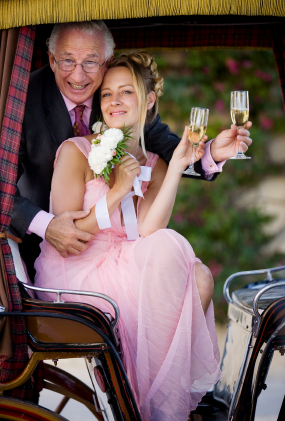 She was an accountant. He played in a local band. Some might say that Terresa and Karl were a mismatched couple, but they would claim that opposites attract. For a few years, they seemed like the happiest couple in the world. Then, she got pregnant.
"My boyfriend became abusive, not physically but emotionally. He called me fat and put me down almost every day. He didn't understand that my body wasn't the same after having our baby, and it was taking me some time to get back in shape," recalls Terresa, a 35-year-old from Los Angeles.
When their daughter was a year old, Karl dumped Terresa. He told her that he didn't want to be "held back" anymore by her and the baby.
>> Related: Dads, new babies & jealousy
"Three months later, Karl called, begging me to come back to him. But I had moved on... with his dad. Jack (Karl's father) is a kind and sensitive guy. One day, we ran into each other and made plans for lunch. Soon, lunch turned into dinner, and dinner turned into dates. We've been together for a year now, and it's great!"
>> Also see: Age differences and dating: How to make it work in your favor
---
Related video: Life after divorce
Savvy steps to a better life after divorce
Divorce is challenging, but is also an opportunity to create a new life for yourself and your children. Negative emotions and self-doubt can creep in, but a positive mindset can help you find strengths you never knew you had.
More ways to get over your Ex: