Brides Gone Wild
This may come as news to you, but your wedding day is not the one day of your life where you're allowed to become a screaming, demanding shrew. You'll have the rest of your married life to be that way. Your wedding day is a celebration and demonstration of love and commitment to your partner. While stress and anxiety is part and parcel of the wedding process, this does not give you the right to abuse everyone around you. They'll wish they'd saved the $100 on your wedding gift and gone to In & Out instead. To avoid the often irreparable damage that comes with demonic possession, add these items to your day planner, right along side your 'Thank You' list.
(page 5 of 5)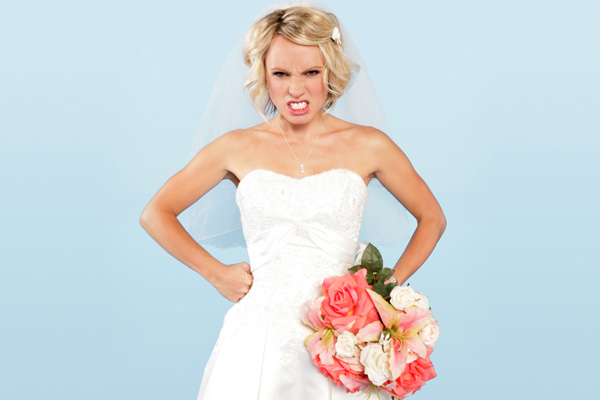 Be willing to compromise
Hallelujah on this one, folks. Consider it training for the lifetime to come. Compromise is everything, because it's the only real way to resolve differences.
Who watches Platinum Weddings? Go on, raise your manicured hands. Good. Now, who remembers hearing this line, "I really, really have my heart set on pink calla lilies and pink champagne. If I want it and can afford it, I don't see why I can't have it. I'll be really, really upset if I don't get it." She's not kidding. She'll be really, really upset and everyone else gets to deal with her.
In the spirit of paying for something, the only time you should be offended is if you pay premium prices and receive substandard products. Otherwise, if something is out of season, unavailable, impossible, or doesn't exist, don't blow your top. Take a deep breath and ask yourself if tear-drop cross-section flatware is really that important.
Even more important than that, don't make this day all about you. You are getting married, which means there's another person in this equation. Wouldn't it be nice to ask your groom what he would like? He has to eat the food, too. His friends will be there, too, checking out your friends. Remind yourself that there is more to this than the details. Be flexible and be willing to compromise. Because, trust me, in two years, you won't care anymore what color the napkins were. You won't even remember them.
Be financially realistic
Frankly, I'm astounded when brides tell me their budget for their wedding is twice the value of my car.
When I hear about parents taking second mortgages out to pay for Princess Susie's fairy-tale wedding, I just want to throw a pie at the bride. Who takes out a loan for one day? You'll be paying it, and your other bills, for the rest of your lives.
Here's an idea: Have a wedding you can afford. I know, I know: But it's so boring! And Daddy promised me I could have my dream wedding. He promised! I don't care if they get evicted. It's my dream! This happens every day and I pity the fool who marries that thong-wearing drill sergeant.
If you're paying for your own wedding, first I'd like to buy you a drink. Second, live within your means. Once again, it's only one day. You'll have the rest of your lives to swim in champagne and lather up with caviar. If your priority is to wow your guests and impress your cousin's vegan diet coach, then cancel the whole thing and go get a manicure. Because seriously, that's not what this is about. We can't all be Star Jones or Heidi Montag (well, maybe the second one -- I know a great plastic surgeon). So refer to rule #9 and be willing to compromise. Be realistic. Who wants to start off their life with a mountain of post-wedding debt?
Half of divorces in America are due to financial stress. So give yourselves an advantage and keep your funds under control. In two years, you'll thank me.
Also: Check out how to discuss your wedding budget >>
Tell us

Are you / were you a bridezilla? Were you a bridesmaid with a bridezilla horror sorry story?

Share the details with us in the comments section below!
More wedding advice
Decorating Diva: Home decor wedding gifts
Crafty and creative wedding invitations
DIY wedding favors