Brides Gone Wild
This may come as news to you, but your wedding day is not the one day of your life where you're allowed to become a screaming, demanding shrew. You'll have the rest of your married life to be that way. Your wedding day is a celebration and demonstration of love and commitment to your partner. While stress and anxiety is part and parcel of the wedding process, this does not give you the right to abuse everyone around you. They'll wish they'd saved the $100 on your wedding gift and gone to In & Out instead. To avoid the often irreparable damage that comes with demonic possession, add these items to your day planner, right along side your 'Thank You' list.
(page 4 of 5)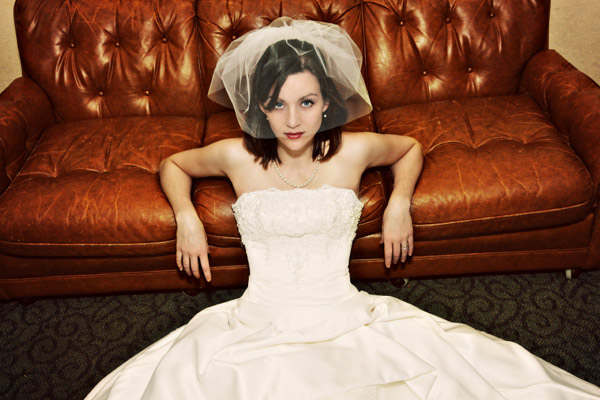 Offer to help
The flip-side to asking for help is to not forget about offering yourself as an assistant.
When we were contemplating hosting the reception in my parent's home, I scrubbed the floors myself. Don't ever be above doing a task yourself, providing it doesn't involve anything more complicated than a hammer and a step-ladder.
Hopefully, you have an army of people just begging to be allowed to participate in the festivities. This shouldn't turn you into a raging task-master with a whip. That's for the honeymoon!
During the preparations, offer to help. See how stressed your mom is and offer to take over for the afternoon. Offer to babysit for your maid of honor. Offer to buy takeout for your soon-to-be in-laws. Offer the use of your car, your curling iron, your manicurist, anything. Just offer something. Trust me, you will be remembered for being a kind, gracious and giving bride-to-be. People take notes on this kind of stuff.
Think before you ask
My best friend had decided at birth that her maid-of-honor would be her cousin.
Fast forward 26 years, and her cousin is MIA the night before the wedding. Yes, she showed up. No, she wasn't hungover. Yes, she was fired as a friend shortly thereafter.
Ladies, we all ask our sisters, friends, classmates, roommates, teachers and ex-lovers to be in our weddings. But this honor shouldn't be bestowed upon just anyone. There is no rule in the handbook that says you must have "x" amount of maids, nor do you have to ask everyone you know.
My husband didn't feature his brother as his best man -- he asked his best friend. My mom's maid of honor happened to be her new husband's ex-girlfriend. There is no rule. Ergo, choose according to what that honor would mean for that person. People on whom you can thoroughly rely: People who love you for you and would be joyful at participating, people who support your union and are willing to stand by you.
Because honestly, that's what it's about. It's not about having equal numbers on both sides. It's not about having ugly girls who won't show up the bride, or putting together potential matches. The true function of a bridesmaid or groomsman is to have witnesses. People who will watch you become one, and will support both of you in good times and bad. So choose wisely -- it's not a play.
Also: Check out tips on planning a non-traditional wedding >>
Up next: Find common ground >>