After Your Big Night Out
After you've gotten all dressed up, after you've enjoyed a romantic meal, after you've opened your sweet romantic Valentine's Day gift, there's only one thing left to do. Head into the bedroom and make it a night he'll never forget. These 10 products are sure to help you end your Valentine's night on a sizzling high note.
(page 2 of 2)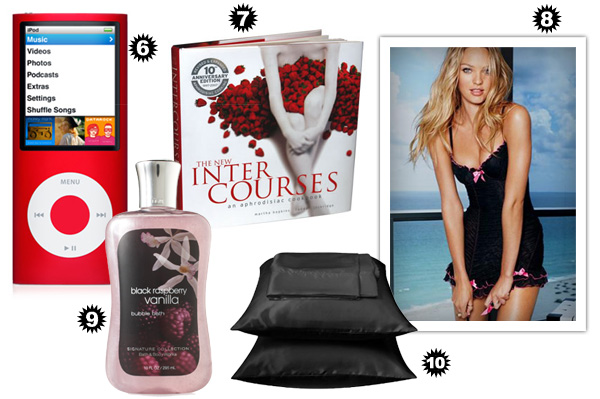 Music of the night
Add to the ambience in your room by setting the mood with a little music. Create the best Valentine's playlist ever when you load up songs that are meaningful to you and your partner or with a mixture of the most romantic love songs out there. To get inspired, check out these great Valentine's playlist ideas with everything from The Beatles to Justin Timberlake: MTV's Top Ten Make-Out Songs and Entertainment Weekly's 10 Great Love Songs.
InterCourses: An Aphrodisiac Cookbook
Take a break and lovingly prepare a sensual bedside snack (and wine!) to stimulate your lover's romantic appetite and fuel him up for a second round. Feast on foods known for their aphrodisiac qualities and you'll soon be feasting on each other again. From strawberries to chocolate and more, this cookbook contains seasonal dishes and meals that appeal to every astrological sign. So get feasting! $20, www.amazon.com.
Slip into something a little sexier
You know you've always wanted to be that woman - the one with the sexy garters that your man can only dream of? Try this floral jacquard garter slip from Victoria's Secret. It's nylon/spandex for a form fitting look, has adjustable straps, cups with removable padding so you can have as much cleavage as you desire and sexy, removable garters. Now that's what he's talking about. $58, www.victoriassecret.com.
Lather each other up
Before or after your sexy night in the bedroom, head into the bathroom and bathe each other in luxury with Bath and Body Works' Signature Bubble Bath. The Black Raspberry Vanilla fragrance is an alluring scent, inspired by vine-ripened berries drenched in vanilla cream. Enjoy a moment of relaxation immersed in luxurious bubbles together before you fall asleep in each other's arms. Buy two, get one free, $12, www.bathandbodyworks.com.
Between the sheets
Don't forget to add the sexy touch of satin sheets to your bed for Valentine's Day. These elegant Charmeuse satin sheets from ChezMoi are shiny, smooth and sensual....perfect for creating the mood you want as you slide around the bed teasing each other and they're also a dream to sleep on with the silkiest feel ever created, especially after your luxurious bubble bath. Sweet dreams! $24.99, www.amazon.com.
More sexy tips
Self-confidence in just five days
Girl's guide to sex: Sex tips
How to look extra sexy for a romantic night