Loren From Scottsdale
Loren
Born: 1984
Occupation: Owner of Alternative Web Media
Hometown: Scottsdale
Relationship status: Single
(page 3 of 8)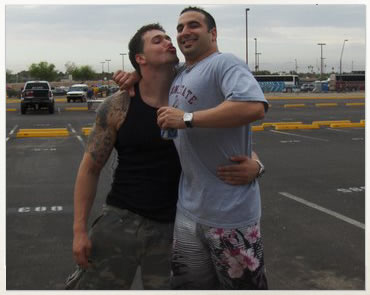 9: Is there a right way for a woman to end a relationship?
Honestly. That's the only thing you can do. Even if it hurts, just be straight up.
10: Do you think men and women can be friends after a break-up?
It depends for how long because somebody else special can come in your life, that person may not be okay with you being friends with that other ex.
11: What are the qualities and characteristics that make you head-over-heels for a girl rather than just a hook-up or a platonic friend?
I like sweet, compassionate, real sincere girls that are genuinely compassionate and sweet. They're hard to find and it's something that's important.
12: If a woman loves her partner but the sex is underwhelming. What should she do?
Just do it together and talk to him about it... don't make him feel like you're putting him on the spot. Just say, "Hey this is what it is, what can we do?"
13: If you could have any three things in your perfect woman, what would those three things be?
Support, looks and compassion.
14: SheKnows wants to know... What do YOU want?
I just want to be happy.
See more pics of Loren