Have Fun With Your Tables
Planning a wedding can be a lot of work -- you want to make sure that every detail is personalized to your couple style. But oftentimes, it gets hard to refocus and find inspiration after all of the time spent figuring out the big-picture logistics. So by the time you're ready to start dressing up those reception tables, you may find yourself running on low. Don't fret! We checked in with New York designer Barb Salzman, founder of Hatch Creative Studio, who tells her clients "inspiration can be found anywhere; you just have to know where to look." Here Salzman offers four fabulous (and easy!) summer-inspired table decor options to help you jump start your planning engines!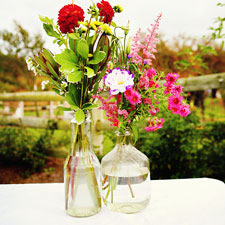 FOR THE RETRO BRIDE
Rewind time and treat your guests to a vintage-inspired backyard barbecue dinner. Get started by rummaging through your parents' attic, becoming a regular at your local flea market, and visiting a yard sale or two. On the top of your "to-find" list? Old jars, clothespins, and fabrics.


Your Escort Cards: If there are two trees near the entrance of your yard, hang a clothesline between them and pin your escort cards along the line. No trees in your yard? Just use mini clothespins to attach the cards to a couple of posts planted in garden pots.

Your Tables: Opt for small round tables and cover them in your favorite flea market floral linen finds. Don't be afraid to mix patterns!

Your Centerpieces: Skip the vases. Instead, create an arrangement with multiple Mason jars of varied sizes. Fill each with a mix of fresh cut flowers arranged as if they were just handpicked from the garden. Wrap some of the jars in burlap (a coarse woven fabric usually made from jute or hemp) and then tie off with raffia. To complete your arrangements, include three galvanized buckets on each table -- fill one with straws, one with condiment packages, and one with sets of silverware rolled in decorative napkins and secured with burlap bands and raffia. Prop assorted old house numbers against one of the Mason jars to serve as your table numbers.

Your Menu: Serve food straight from the grill. A menu of barbecue chicken, hamburgers, and grilled corn is a perfect match for this outdoor soiree. Just make sure to have at least three grills going. That way, the food can be divided so there's always enough ready for your hungry guests.
FOR THE ROMANTIC BRIDE
Go for a reception theme that transports your guests to the eighteenth-century English countryside for a lovely afternoon tea. This idea will work well for brides hosting a cottage reception, as it's synonymous with classic, Old English charm.


Your Escort Cards: Ivy topiaries work perfectly as an escort card display. Pin your escort cards to tea bags and then simply arrange them within each topiary.

Your Tables: Make sure to use rectangular tables. Cover them in simple white cotton linens and surround each table with walnut folding chairs for a bit of a rustic touch.

Your Centerpieces: Go shopping for an assortment of classic teacups and saucers. They'll become the focal point of your centerpieces. Cluster and stack a few of them together on each table. Use some of the teacups to hold garden plants and vines that will creep across the table linens. Mix in cloche jars in various sizes, covering some of the teacups with plants.

Your Entertainment: Skip the cocktail hour and trade it in for a little game time instead (a growing trend with brides!). To keep with the theme, set up croquet and bocce on the lawn for a little friendly competition.
FOR THE DIY BRIDE
There's nothing more romantic than a summer picnic in the park. So why not use that as inspiration for your reception style? After the ceremony, ask your guests to join you for a cozy, intimate afternoon picnic. The best part? The relaxed vibe will ensure that all of your loved ones can sit back, soak in some sun, and enjoy your big day.


Your Escort Cards and Centerpieces: Double-duty decor is always a plus, especially when you're planning a wedding DIY-style. Stack crates full of potted garden herbs for your guests. These pots will not only serve as escort cards -- each one will have a small sign on it with your guest's name and seating assignment -- but when brought back to the "table," it'll also serve as the centerpiece. For an added bonus, they'll also take them home as favors!

Your Tables: No table rentals needed here! Instead, arrange oversized baskets throughout the event space where you'd like guests to sit, and fill each with rolled fleeces in your wedding colors. Use at least two main colors and a pattern to really make them pop. When your guests arrive, they can set up their own "table" and then head over to the food stations to grab their meals.

Your Food Stations: Provide a recycled bag with your wedding logo for each guest as they arrive. Set up your food stations as though they were farmers' market tables, and allow guests to select and bag what they'd like to carry back to their blankets. Remember to pick picnic-friendly menu items, like fresh fruits, vegetables, salads, and finger sandwiches. And keep in mind that all foods should be prepackaged in a way that makes it easy for a guest to grab and bag!
For the Kitschy Bride
Remember how much you loved summer camp? I mean -- who doesn't? Re-create that childhood magic for your big day by hosting your celebration at a great camp near you.


Your Escort Cards: Line one wall near the entrance to the mess hall with canoe paddles painted in your wedding colors. On each paddle, paint a table number as well as your guests' names so they can find their seating assignments.

Your Venue and Tables: Dinner will be held in the mess hall, of course! And it wouldn't be complete without dining on picnic tables.

Your Centerpieces: Keep your table arrangements simple and natural. Use wheatgrass with fresh blooms to achieve a wildflower look. And paint table numbers onto unique rocks found on the grounds and place them near each centerpiece so guests can easily locate their table.
Photo: C Studios