A-List Inspiration
Want to make sure your wedding is a standout? Check out these hot celebrity wedding styles and steal some inspiration for your own wedding day!
Black Magic Roses:
Say bye-bye to lilies. After a year filled with flirty florals like daisies and hydrangeas, celebrity couples including Ashlee Simpson and Pete Wentz and Billy Martin and Linzi Williamson chose to go the dark and lovely route. Black Magic roses are darker than an average red rose and look much fuller. The flower symbolizes beauty, love, and deep passion, making it the perfect choice for an evening wedding or a romantic setting.
Nonmatching Bridal Party:
First Daughter Jenna Bush had a bridal party of 14 at her Texas wedding last year, but she didn't force them to dress alike. Instead, she enlisted the help of celebrity bridal designer Lela Rose to create not one, not two, but seven separate bridesmaid dress styles in seven different colors. Celebrity bridesmaids in friends' weddings have also been seen following this trend, including Mary-Kate and Ashley Olsen.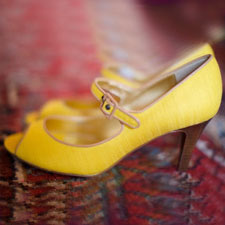 Splashy Shoes:
If you're planning on wearing a boring ol' pair of white shoes for your wedding day, you might want to reconsider. Heels that pop are the hottest accessory right now. Bright green and yellow pumps are gaining popularity, as are jeweled heels.Case in point: Just My Luck actress Bree Turner donned rhinestone-encrusted Prada pumps for her wedding to Justin Saliman.
Groom's Cakes:
This charming Southern tradition is back in style, thanks in part to stars like Black Eyed Peas' Taboo who recently celebrated his nuptials with a black and white groom's cake. Traditionally, this cake is given by a bride to her groom as a wedding gift and is supposed to be a reflection of his interests. Legend has it that any single lady that puts a box of cake underneath her pillow will dream about the man she's supposed to marry.
Comfort Foods:
Behavioral psychologists suggest that when the economy takes a nosedive, people seek out comfort foods since they bring to mind safety and tradition. The stars are no exception to the rule -- Ellen DeGeneres and Portia de Rossi served beef sliders at their fall wedding.
House Parties:
Weddings are becoming more intimate affairs for many brides and grooms due to cost and personal style sensibilities. Some are even taking it a step further by choosing to get married in a friend or relative's backyard. Jay-Z and Beyonce surprised fans by secretly celebrating their nuptials in the rap star's NYC penthouse apartment last April, while Jessica Harp of The Wreckers recently said "I do" at CJ's Off the Square, a historic house and garden in Franklin, Tennessee.
Red-Hot Romance:
While many modern brides are going crazy over bright color combos like green, yellow, and purple, celebrities like Tia Mowry and 90210 star Christina Moore recently chose red-hot palettes for their respective wedding days. Mowry added many hot pink accents, while Moore stuck to a more traditional color combo of red, black, and white.
More from WeddingChannel.com
Celebrity Wedding Cakes
Designer Hollywood Wedding Gowns
Star-Studded Wedding Receptions
Photo: Elizabeth Lloyd Photography