Get Your Dress
For Less!
It's the dress of your dreams, it fits like a glove, and all your friends and family think you look gorgeous. Except there's just one small problem (okay, so it's not just a small problem): the price. As you look for creative ways to scrimp and save for your wedding day in this economy, cutting back on your wedding dress budget is one of the last things you want to think about. After all, this IS your big moment. But we can help you out.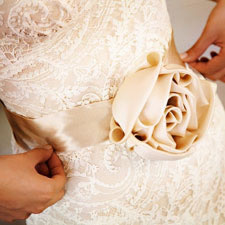 Smart Shopping Tip 1: Less Is Less
You're all about the details, but are the details all about you? Lace trim and pearl and crystal beading may be beautiful, but they also cost more. You can certainly find something similar (with less detail) at a lower price and then add on additional accessories to make your dress pop (like a crystal belt, brooch, or shrug) for half the cost.
Smart Shopping Tip 2: Be a Trunk Show VIP
Love a certain wedding dress designer? Make your fan worship work for you on your wedding day! Sign up online so you can receive email alerts about upcoming sample sales and designer trunk show events. Generally speaking, trunks shows happen in early spring (April/May) and late fall (October/November) and can save you up to 80 percent on your dress. Also, consult with your local wedding boutique about their upcoming sales or promotions.
Smart Shopping Tip 3: Everything Old Is New Again
Recycling is in -- and that applies to your wedding dress too! If you have your heart set on an ultra-expensive designer gown, you might want to consider shopping for a secondhand one. It's not only thrifty, it's also very socially conscious. Not sure where to begin? A good option is eBay, but so are other websites like WeddingDressMarket.com (where you can find gently used bridal gowns and accessories) or EncoreBridal.com (where you can find new and used designer styles for half the cost). Not convinced? We were able to find a size 10 Kenneth Pool by Amsale dress on Encore Bridal marked down from $4,396 to $1,300. (You'll save over $3,000!)
Smart Shopping Tip 4: Skip the Bridal Showroom
You don't need a designer gown to look and feel great on your wedding day. If you're determined to walk down the aisle in a certain style or design, consult a local seamstress (go to the WeddingChannel.com message boards to talk to other brides about a possible referral). Most likely, they can find a comparable pattern for you at a fabric store and create the dress of your dreams at a significantly lower price than what you'd pay if you bought the same dress at a store.

More from WeddingChannel.com:
Finding Your Wedding Dress
Search for the Dress of Your Dreams
What's the Difference Between a Trunk Show and a Sample Sale?
Photo: Geoff White Photographers