Don't Miss These
Must-Have Items
Planning a wedding can be a real challenge, and some of the details can get lost in the shuffle. Make sure you don't end up with any registry regrets by checking out our list of the most common registry items couples wish they had remembered.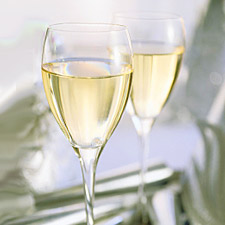 Barware
Most couples cheerfully choose wine glasses with their crystal stemware, but it shouldn't end there. A pitcher for margaritas comes in handy when entertaining, and don't forget to cover your other favorite drinks: High ball or on-the-rocks glasses, martini glasses with a pitcher, a silver cocktail shaker, beer mugs, and a crystal decanter all make great wedding gifts and will equip you to be the perfect hosts for years to come.
Casual China
Some of the same couples that spend hours poring over china patterns before making a decision can end up empty-handed when it comes everyday dishes. For times when you prefer to use more casual dinnerware, make sure you have more than paper plates to eat off of. Good everyday dishes come in great styles and patterns that can be dressed up for casual entertaining while also making your daily dining a tasteful occasion.
Serving Platters
Ah, the serving platter, the universal wedding gift. You're going to get them -- a lot of them -- so why not get the ones you want? They're useful for every party, and you can register for casual and formal pieces. Why risk serving cheese and crackers off of a platter shaped like a rooster for the next 20 years? Nudge your guests in the right direction by registering for the specific styles you love and see your good taste reveal itself every time you serve.
Home Decor
Chances are you'll be doing some redecorating after you move in together (if you haven't already), and you'll need to find things that you both like. Items like lamps, candlesticks, vases, decorative bowls, and clocks add style and personality to your home and will mean even more if they're given to you by the people you love. Register for your favorites, and what you don't receive as gifts you can always pick up yourselves after the wedding.
Holiday Accents
Collecting holiday items usually isn't a priority when you're single -- your mom has all that stuff, right? Once you're married, however, you may find yourself playing hosts to your newly blended family, and you're going to want to do it in style. Creating instant holiday cheer can be expensive, and you may look back on your chance to register for some of your favorite pieces with longing. Gorgeous tree decorations can eventually become cherished heirlooms, and festive table linens and collectibles make sentimental gifts your guests will love to give. By thinking ahead, you can have a beautiful start to a holiday collection that will warm your heart and decorate your home for years to come.
More from WeddingChannel.com
Top 10 Registry Items for Couples Just Starting Out
How to Pick Out the Perfect China
Photo: Starwood Hotel and Resorts