Test Drive
You'd never buy a car without test-driving it first, right? So why settle into a lifelong marriage before trying one on for size?
(page 3 of 3)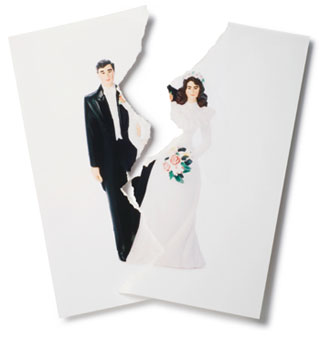 "Simply put, my 20s were freaking me out," says 29-year-old Elisa Albert, a wavy-haired brunette and adjunct assistant professor of creative writing at Columbia University. "I felt unqualified to be barreling into adulthood alone — I felt at loose ends in regards to my career, my ability to support myself, even my postcollege social identity. I was lonely and scared. At the same time, I'm watching
Sex and the City
and going, 'Okay, so should I spend the next 20 years getting my heart broken and pretending that it's all in good fun? Or should I marry this dude I'm dating, have a gorgeous party, and make my parents really, really happy?"
She chose wrong.
It all started over a steaming cup of coffee in a New York City diner. Elisa's mother suggested she give a family friend a call in the wake of his sibling's death. (Elisa's own brother had died a few years back.) "We talked about our brothers, which was intense, and then somehow we went from there to falling in love and having this 100-mile-an-hour courtship," Elisa says. "We were talking about naming our unborn children after our dead brothers. It was totally crazy."
From an outsider's perspective, you could see trouble ahead: They crashed between breakup and make up like a game of pinball. But during one warm-and-fuzzy reconciliation, they decided to get hitched. Suddenly, the relationship snowballed into something bigger: getting married.
"I totally bought into the wedding-industry machine," admits Elisa, who spent more time obsessively planning every detail of her nuptials for 300 at a Malibu estate than she did working on her master's thesis. From the five-star vegan menu to the Japanese lanterns to the playlist, Elisa's focus was all wedding, no marriage. "I had a totally misguided notion of what a wedding was about," she says. "You work toward this giant event, have an enormous party, then an hour after you get married, reality sets in. I was like, Oh, shit — that didn't really solve anything." You can almost forgive a girl for focusing on the party and forgetting about the hangover. After all, it seems that we don't have a clue what the heck marriage is anymore. Like a fat promotion to the corner office, we aspire to it — the sparkler on my finger means I'm a success, receiving the final rose means I win — but what is the prize again? For that cluelessness, apparently, we can thank our single moms and alimony dads. "We are the children of parents who divorced in the '70s and '80s," says Paul. "Divorce is out there as a familiar possibility."
My own parents' bitter divorce — many, many years in the making — played out right around the time of my engagement. I knew all too well what the seamy underbelly of marriage looked like, and it had made me incredibly cautious about commitment — it took me seven years of dating my husband before I could consider the concept of "forever."
Still, it's a legacy that cuts deep. "We were both like, We're going to do this right! Divorce is for losers," Elisa says of her and her ex's attitude toward their own parents' divorces. But she knew in the back of her mind that there was a plan B, that marriage was not necessarily a binding contract. And when she realized that she didn't even have a clue what a good marriage looked like, let alone what one felt like, she didn't hesitate to produce her Get Out of Jail Free card. "It was a constantly pitched, keyed-up hell," she says. Their downstairs neighbors left a note on their door: "I don't know what the hell is wrong with you people, but you need to stop screaming at each other."
Pulling the trigger was easy; dealing with the fallout was not. "Every time I ran into somebody I knew, I wanted to die," Elisa says. She briefly moved back to her childhood home in L.A. to regroup. "Even if they were nice, I just felt this pity from them, like, 'Oh, my God, you messed up big. Wow, that sucks.'" Looking for guidance, she joined a divorce support group out in the Valley. It was an eye-opener. "It was full of women in their 50s with kids and mortgages," Elisa remembers. "They knew their marriages were doomed straight out of the gate but stayed shackled to them for 20 years."
Confronted with that alternative, Elisa's confidence in her decision was restored. Today, three years later, she considers her first husband the perfect warm-up for the real deal. "I could not be more grateful for that experience," she says. "I'm in a really good relationship right now, knock on wood, and I would never have been capable of that without my first marriage — learning how relationships work."
It's easy to write these women off as callous or self-absorbed. And yet on some level, they just might be pioneers: Why stay put in an empty shell of a marriage — an arrangement on paper only - instead of calling it what it is? "This generation is reinventing marriage," says Paul.
"I think women our age are like, We're either going to fix this, or we're going to end it, and that's for the better," says Kay Moffett, coauthor of Not Your Mother's Divorce. She married her own starter husband in a funky, flamingo-filled Florida wedding at 27, then divorced him four years later after realizing she could never make the real commitment of having children with him. But don't call her divorce a failure; in this enlightened world, it was simply a relationship that ran its course. "I think maybe we're moving more toward a serial-marriage society — maybe you have three marriages in your life and several different careers. That's where I'm heading," she says.
Still, even unapologetic Andi admits that the process is not always easy. "On the one hand, I felt empowered, like, Woo-hoo, I have the rest of my life in front of me. But there were moments of, Oh, my God, I'm a divorcée — does that mean I'm all washed up?" she says. It's why, she suggests, she turned to drinking heavily for several months after her breakup, trying to reconcile those thoughts — and perhaps, I suspect, dull some of the pain she's so sure she never felt.
Then she met David. He was supposed to be her rebound relationship. Three years later, she realized that she wanted to have kids with him — and that was the clincher.
Andi lifts her 2-month-old daughter up to her breast in the middle of the café. I ask if her second husband is The One, since they have kids and all. "I'm happy, but I try not to think about it," she says. "It's like, if I thought I had to have my hair the same way for the rest of my life, I'd freak out."
Reprinted with Permission of Hearst Communications, Inc. Originally Published: The Starter Husband