The Many Types
Of Marriage
Marriage may be a centuries-old institution, but couples today are making it their own, reshaping it according to their individual personalities and their shared beliefs. They are choosing when they marry, whether they get hitched in their teens or wait until their 40s. They are rethinking how they marry, with some looking to their faith to strengthen their bond and others challenging the basic principles of marriage (monogamy, anyone?). And they are standing up for whom they marry, inviting us all to examine our ideas of what marriage really means. Take a peek into the lives of these nine couples that have vowed to love, honor, and cherish - and created their own visions of the ultimate commitment.
(page 3 of 9)
POLYAMOROUS MARRIAGE
CASS KING AND JOHN WOODS, BOTH 36 VANCOUVER, BRITISH COLUMBIA, CANADA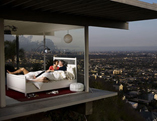 Cass and John, who work as a traveling musical comedy duo, are polyamorists — literally, people who love many people. By mutual agreement, they're both free to have sexual and romantic relationships outside their marriage.
No limits
"When John and I started dating, we never actually committed to monogamy," says Cass. "We always said, 'If you want to go on a date with someone else, just tell me.' And we never committed to monogamy in our marital vows either. We got married five years ago because we love each other and we knew that we wanted to make a lifelong commitment to each other. But being polyamorous means that we can also express the fullness of our love and affection for our friends and lovers without restriction."
What marriage means to us
"There's so much more to marriage than monogamy! There's the decision to live our lives as partners in all of our decisions, big and small. There's the growth from knowing someone for so long and learning to allow for the grumpy times along with the great ones. There's the amazing solidity of knowing that I'd do anything for John's well-being and that he would do the same for me. What do we get out of being married? What does anybody get from a good marriage? Trust. Faith. Partnership. Unconditional love."
Love is all around
"It's funny how it's easily understood that my love for my aunties doesn't diminish my love for my mother, but it's less acceptable to say that my love for my boyfriend doesn't diminish my love for my husband. It's like somehow the sex changes everything, confers an ownership on my love and on my body. I don't believe in that. Polyamory offers us so many opportunities for emotional growth. We live as strong, fulfilled individuals, and we have more to bring to the relationship because of it. Every day we
choose
to be together."