The Many Types
Of Marriage
Marriage may be a centuries-old institution, but couples today are making it their own, reshaping it according to their individual personalities and their shared beliefs. They are choosing when they marry, whether they get hitched in their teens or wait until their 40s. They are rethinking how they marry, with some looking to their faith to strengthen their bond and others challenging the basic principles of marriage (monogamy, anyone?). And they are standing up for whom they marry, inviting us all to examine our ideas of what marriage really means. Take a peek into the lives of these nine couples that have vowed to love, honor, and cherish - and created their own visions of the ultimate commitment.
(page 2 of 9)
SECOND MARRIAGE
ILANA MITLITSKI, 34, AND VADIM MITLITSKI, 39 NORTH BERGEN, NJ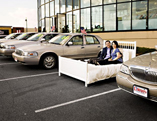 Ilana, a biologist, and Vadim, a chemist, each got married for the first time in their 20s. Close friends for years, they attended each other's weddings, just a few months apart. Later, after their first marriages ended, they became a couple. They've now been married three years and have two sons, Benjamin, 2, and Gavin, 5 months.
Starting out
"I met my first husband when I was in college and he was in graduate school," says Ilana. "We should never have gotten married in the first place. Even then, I knew in the back of my mind that it wasn't a good idea. But all my friends back home in Texas were getting married, and I guess I felt pressure to settle down. And then things got too far along, and I was too scared to call it off. I was only 24, and I thought,
Well, maybe it will work out.
But we just weren't meant to be together. We got divorced three years later."
Starting over
"Vadim and I met at work. We got married around the same time, and then we got divorced around the same time too. So we talked a lot about what we were going through and tried to help each other through it. We just got along so well, and we started spending more and more time together, and then...voilà. We married in June 2005. It was so different from the first time. I wasn't nervous at all; I didn't have any doubts. It just felt right. I knew I wanted to be with him, and I felt lucky that he felt the same way."
Second time's a charm
"Everything comes easier with Vadim than it did with my first husband. We come from more similar family backgrounds, which helps. I think he understands me better, and I think he tries harder. But I also appreciate him so much more. I pay more attention to potential problems than I would have in my first marriage — like when we have a stupid argument, I try not to let it develop into a bigger issue than it needs to be. Having been married once before, I want to get it right the second time."