Grateful Husband
It's (surprise!) the little things. Learn how to make the steak of his dreams, play poker like one of the boys - and 11 other moves that'll super-glue your marriage.
(page 2 of 2)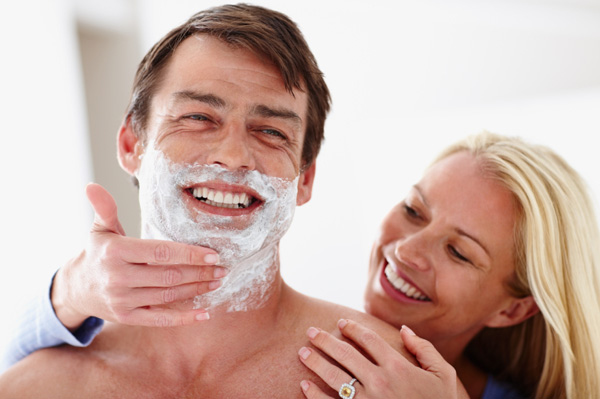 Strip
Why: Because he really — please, baby, please — wants you to.
How: Visualize yourself strutting your stuff in a way you can be comfortable with, advises Lily Burana, a former stripper and author of Strip City, an account of her farewell take-it-off tour: "Maybe something kittenish, coy and old-fashioned — all feather fans and boas," she says. "Or something bold and crazy, like pole dancing, or more 1930s cabaret." This will help get you in the mood for showtime, and only when you feel sexy, Burana explains, can you act sexy. Attitude trumps attire here, so no need to drop a bundle on that Elizabeth Berkley costume. Instead opt for clothing with easy closures (snaps, not buttons) or no closures, such as a simple sexy slip.
Music is optional; rehearsal is not. "Do a dry run, just you and the mirror, testing out moves," says Burana, like slinking with your arms above your head, slowly twirling, maybe teasingly flashing a little flesh. "Dance for a while, then practice sliding the straps of the slip off your shoulders and pulling it down over your hips or up over your head," she says. "When you feel comfortable with the movements, they start to look good."
Embarrassed? Shy? This will help: "Keep on your feather boa or scarf — which makes a great prop anyway — or your bra or panties," says Burana. "Plenty of strippers have made a mint by holding something back, so it's not just a good psychological comfort, it's a great gimmick!"
Have a conversation with his boss
Why: Because he or she is the adult who, after you, matters most in your husband's daily life. So you want to play it just right.
How: Forget everything you've ever learned about getting in there and impressing people, says Julie Dolan, wife of a company exec and one of five sisters who host the ABC Radio Network talk show Satellite Sisters. This one's all about old-fashioned self-effacement.
Job one, says Dolan, is to let the boss shine. So go bright-eyed when he rambles on about the cooking course he took in Provence.
Job two: Let your husband shine. Bring the conversation around to your guy's interests or lead him into a story that you know he tells well. Only when the time is right (i.e., when there's a lull and you sense it's your turn) should you let yourself shine a little, says Dolan. "Be ready to talk about something — perhaps a nonpolitical event in the news, maybe a book you've read — if only because it's simply good etiquette to be able to hold up your end of a conversation."
Oh, and do be business-sensitive. "You need to know what's going on," says Dolan, so you won't launch into a big discussion about your big shopping spree the day the company's stock did a nosedive. The flip side is, don't show you know too much, either. His boss values discretion; she's aware that your husband passes office gossip and inside information along to you, but she won't appreciate hearing you flaunt the details of some junior exec's pilfering of the petty-cash account
Throw him a super surprise party
Why: Because he'll never forget that you made him feel so special.
How: Consider a twist on the old crowd-jumps-up-from-behind-the-couch routine: the semi-surprise, says Ilene Rosenzweig, an author of Swell: A Girl's Guide to the Good Life. Let him in on your plans, just not on all your plans. To wit: Rosenzweig once told her guy she was taking him to a country lodge for a few days to celebrate his birthday — but didn't mention that several friends of his would show up throughout the weekend. If you're taking the party path, invite some completely unexpected guests, like his favorite high school math teacher or an old boss, she says, "to give it that added This Is Your Life frisson."
Quote at least three lines from The Godfather
Why: Guys believe the Corleones know what it is to be a man. Yours just wants to know you get it. Capisce?
How: Memorize these quotations:

"A man in my position can't afford to be made to look ridiculous."
"In my home! In my bedroom! Where my wife sleeps! Where my children come and play with their toys!"
"Fredo, you're my older brother, and I love you. But don't ever take sides with anyone against the family again. Ever."
"Leave the gun. Take the cannoli."
Leave him a sexy voicemail at work
Why: So he'll have a really compelling reason to get home on time.
How: You want to be suggestive and provocative — not so explicit that he has to cover his lap at his next meeting. Just turn on your sweetest or most sultry voice and murmur something like the following, suggests sex therapist Gloria Brame, Ph.D., a former phone-sex operator:
"Do you remember when you asked me to [fill in the blank with some sexual request from him that you were too tired or timid to act on]? I've been thinking about it all day, and I can't wait to see you tonight!"
"I was going through my lingerie drawer and remembered how you get when I wear [fill in the blank]. Well...I'm planning to wear it tonight."
"I've spent the last hour thinking about how incredibly sexy you are, and how you're the only man who can turn me on. When you get home tonight, I want to prove it to you."
Kick his style up a notch
Why: Initially, for your own pleasure. But then the compliments will start rolling in, and he'll seek out your impeccable advice.
How: Tiny touches make the man, says salesman Zanella. Try these style shifts:
Replace solid sport or dress shirts with a pattern — for instance, stripes or a small check. Some nice color combinations: light blue and white, and gray or khaki with black.
Striped ties, in all kinds of colors, are back, so grab a handful.
If he's reasonably fit, ditch the pleated pants and get him into a pair of flat-fronts; they're sexy and stylish.
Invest in a casual suit — say, for this time of year, a linen one in a light shade of brown, blue, or gray. Patch pockets (pockets sewn onto, rather than into, the jacket) are another casual touch. His new duds will do double duty as a sports jacket when worn with jeans or khakis.
Replace his raincoat with a newly fashionable three-quarter-length coat that hits just above or below the knee.
Make heart-melting chocolate-chip cookies
Why: Because they're the essence of wholesome, and he knows you're not. A potent combination.
How: For a truly spectacular variation that my own husband swears makes him stick around, try this recipe. (A little inside scoop for you: It's the high ratio of brown to white sugar and the addition of oats that makes them so special.)
Ultimate chocolate-chip cookies
Whisk together 1 1/2 cups flour, 1 teaspoon baking soda, and 1 teaspoon salt; set aside. Beat together 1 cup butter-flavored solid vegetable shortening, 1/2 cup sugar, 1 cup light brown sugar, and 1 teaspoon vanilla until creamy. Beat in 2 eggs until light and fluffy. Gradually beat in the flour mixture and 2 cups old-fashioned oats. Stir in a 12-ounce package of semisweet chocolate chips. Drop batter by tablespoonfuls onto parchment-lined baking sheets and bake at 350° for 10 to 12 minutes. Makes 52 cookies.
More relationship advice
Your guy's "I love you" wish list
Fresh, fun and sexy date ideas
8 Kinds of sex every couple should try
Reprinted with Permission of Hearst Communications, Inc. Originally Published: What Keeps a Man Crazy in Love