A Minimalist Approach
Not every bride-to-be has been dreaming of walking down the aisle in a fluffy white dress since she was a little girl. Some women just want to marry their significant other without all the pomp and circumstance -- for example, the months of tedious planning, being the center of attention and hunting down that elusive bridesmaid dress that will flatter all ten attendants in your wedding party. If this rings a bell, then you're suffering from anti-bridal symptoms. Here's how to deal.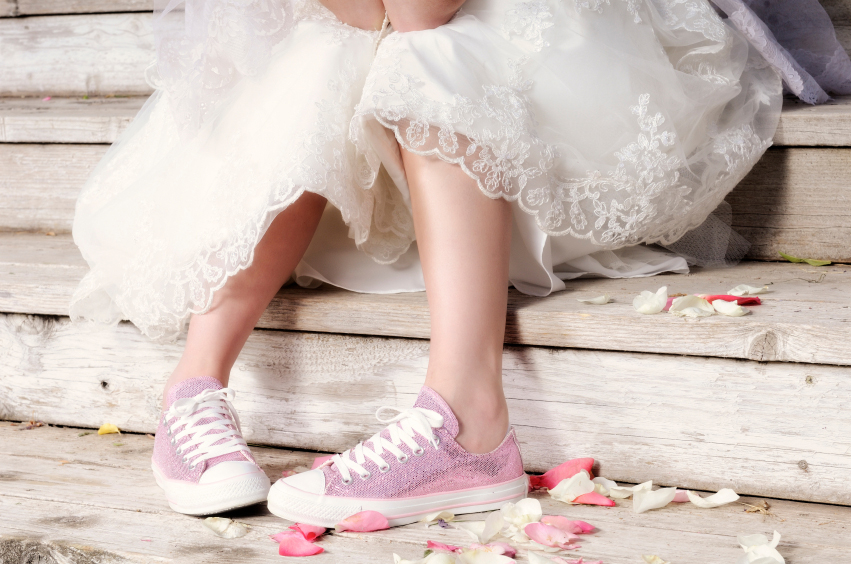 The gown
If the thought of going into a big name bridal shop and trying on traditional gowns makes you break out in hives, than you should avoid them at all costs. Channel your inner Carrie Bradshaw from Sex and the City (who did in fact break out when trying on a gown during the TV series) and pick out a simple off-the-rack outfit you will feel comfortable and attractive wearing. It doesn't have to be white. It doesn't have to be formal and it doesn't have to be designer. It's your anti-wedding, so pick out a style that suits you.
Bridesmaids
If you even choose to have bridesmaids, let them pick out their own dresses. This will not only save them some money, it will ensure that the dress they pick flatters their own body type. Everyone is happy! Even better, they really will be able to wear it again.
Bridal shower
If you don't like being the center of attention, than you will probably dread opening up all your presents in front of a room full of people at your bridal shower. People will probably buy you presents regardless, so if you can, skip the bridal shower all together.
If you can't avoid the shower, than take freelance writer Jessica Murphy's suggestion and ask your guests to not wrap their presents. That way you can just display the gifts for everyone to see, thank everyone and enjoy a nice leisurely lunch mingling with your guests. Not only will this save you from having all eyes on you as you open each gift, but it will also help salvage the environment by saving all that wasted paper on your anti-style.
As far as the bachelorette party goes, consider taking advantage of this. You don't have to plan it -- you just have to attend. Even that anti-bride should enjoy a girls only weekend getaway. Ask yourself, why not?
Prep time
People have been known to throw a wedding together in just a few short months, so don't think you have to waste a whole year trying to get everything planned. You don't need all the trappings -- so find a decent venue that you and your hubby can live with for the reception. Ask a friend to photograph the wedding. Use your iPod if you can't find a DJ on short notice. Create your own invitations and then, just show up to say 'I do'. Since you're not too concerned about the frills, you won't have to spend forever needlessly stressing over the plans. As long as you say your "I Do's," there's not much else to worry about.
If you still want people to be impressed and have a good time, hire a wedding planner that understands your lack of desire for frills and thrills. That way, she will keep it simple and everything will stay in order.
Focus on him
The essence of being an anti-bride is that you don't get all caught up in the little things. Stay true to yourself even though most people will expect you to dive into planning every detail and will offer up a dozen bridal magazines for ideas. Whether you skip the big-to-do and slip off to Vegas or you have a low-key affair, embrace your inner anti-bride and just enjoy marrying the person you love.
Trash the dress
Another non-traditional idea is to "trash" the dress after the big day. More and more brides are opting to use their dresses creatively in a photo shoot after the wedding ceremony. They choose a setting that destroys the wedding dress as the newleyweds take an adventure together. Check out this example:
More non-traditional wedding ideas
Ditching diamonds: Engagement ring options
Colorful wedding dresses
Find a new something blue: Trendy ideas