(page 2 of 2)
Selecting your wedding gown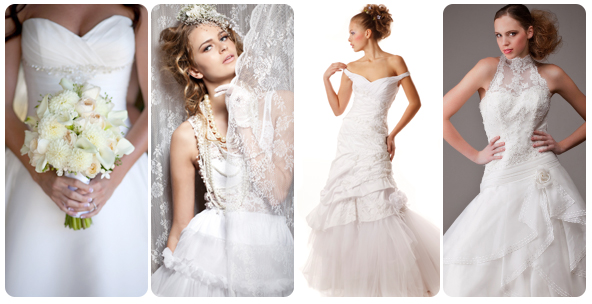 Spend some time researching on wedding websites and looking through bridal magazines to get an idea of what type of gowns you like before making an appointment at the bridal shop.
Choose two or three salons in your area in order to find the best one for you. If you find the gowns are out of your price range, the customer service is poor or you just don't get a good vibe from the salon, it's time to move on.
Your bridal gown may be one of your biggest wedding purchases. Therefore, you should take your time and make sure you are completely satisfied before making your final choice.
Bring your sister, mother or girlfriends with you while shopping for your wedding dress. They'll be able to help you get in and out of the gowns (some gowns are very heavy!) and, of course, give their opinion on your selections.
wEDDING gowns for your body type
Every wedding gown isn't for every bride. The key is to find a gown that flatters your figure, while downplaying the areas that aren't so perfect. Whether you are short, tall, thin or curvy, you can still be a beautiful bride. We went to Alfred Angelo head-designer Michael Shettel for tips on how to find the perfect wedding gown for your body type.
Alfred Angelo believes the bride is a variety of people, and we consider the all encompassing "American" woman when designing for different body shapes, heights, backgrounds and sizes. We design a variety of styles, but ultimately want to highlight and accentuate a woman's body so she feels her best on her big day. We want to make all childhood dress-up fantasies a reality, no matter what size and shape the bride has grown into.
Since finding a gown is so emotionally charged, brides are advised to keep an open mind when shopping for their gowns. When a woman begins her search for her gown, most have their "dream dress" in mind, and they've thought of this for some time. Alfred advises he works with to try on the "dream dress," but also try on several other silhouettes — step outside the box. He advises this because trying on several varying styles will really help the bride see what style is most flattering on her. This is your big day, when all eyes will be on you. Instead of hiding what you have, show it off! It's your time to shine. Embrace the beauty that you are!
Here's what Alfred Angelo says about body shape:
Pear or hourglass shapes: I created and introduced new mermaid and trumpet-shaped gowns to really flatter the figure, in addition to the classic strapless, A-line shapes we are known for. These give women with curves (pear or hourglass) another option to celebrate their bodies.
Apple shapes: For brides who carry a little extra weight in the middle, empire or A-line is always a good choice. It helps bring the attention upward, and smooth out the middle. Wrap styles are also good to help trim the mid-section if the bride happens to not want to go with an empire, flowing style.
Athletic figures: Brides with a boyish shape do well with gowns that really accentuate the waist and give them shape. Brides with broad shoulders can benefit from off the shoulder v-neck and cap-sleeve styles. The v-neck helps create the decollatage as the new focal point, and the cap sleeve softens the shoulders. Halter styles can also be a good choice, but they should compliment the collar bone.
---
OR
Learn the meaning behind 9 wedding dress terms here >>
---
MORE WEDDING TIPS
Photos: Mermaid gown by Lazaro, available at Kleinfeld Bridal. Lace gown available at Alfred Angelo.