(page 2 of 4)
green weddings
Around the world everyone is "going green" and that goes for brides too! You don't have to have a completely green wedding, however, you can incorporate some eco-friendly ideas into your wedding planning. Here are five tips that will green your wedding.
More on how to host an eco-friendly 'I Do' event >>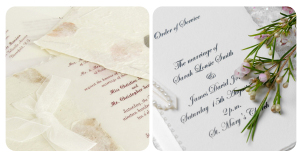 Recycled paper invitations
Find a printing company that uses recycled paper and soy-based ink for wedding invitations, programs, menus and place cards.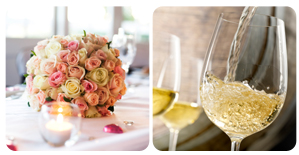 Serve an organic menu
Select locally grown organic food, coffee, wine and flowers if possible.
Avoid seafood choices that are endangered or depleted.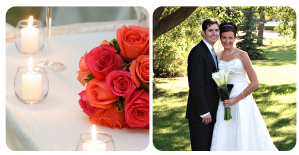 Say your 'I Dos' by candlelight
For an evening wedding, conserve electricity by planning a candlelight wedding ceremony.
For a daytime wedding and reception, an outdoor ceremony can be beautiful. For indoor ceremonies, try to incorporate more natural light.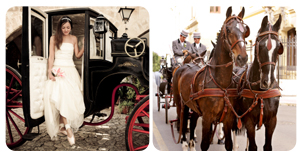 Horse-drawn carriages and hybrid getaway cars
Instead of arriving at the church in a limousine, how about a horse-drawn carriage? It's very romantic and you won't use any fuel!
Depart the reception hall in a hybrid car instead of a sports car.
Eco-friendly favors
Give flower seeds, plant bulbs, potted plants and other eco-friendly favors to your wedding guests. "Provide your guests with party favors they will enjoy and can reuse," says Diane Forden. "Consider fair-trade tea, coffee or chocolates, tree seeds, saplings or re-usable totes. Natural soaps and body lotions are also a favorite."
Or check out these adorable DIY wedding favors >>
Destination weddings

Some reports indicate that as many as 20 percent of all weddings are now destination weddings where the bride and groom travel to a vacation destination to host their wedding ceremony and reception.
Celebrities have been hip on the destination wedding trend for years.
For example, Katie Holmes and Tom Cruise were married in an Italian castle, while Tony Parker and Eva Longoria celebrated their nuptials at France's Chateau Vaux le Vicomte. But destination weddings aren't just for the rich and famous.
Because of the travel expenses, most destination weddings are relatively small involving only the couple, family and close friends.
Resorts and hotels offer packages that make planning a destination wedding relatively simple. Many offer the services of their own on-site wedding coordinator who will plan all the details of your wedding from decorations to sightseeing activities for your guests.
Though it may seem expensive to hold a destination wedding, it actually may be cheaper than holding a large wedding with a seated dinner in your hometown. It is commonplace for the bride and groom to pay for the hotel rooms, food and other guest expenses. However, normally guests pay for their own airfare.
When planning your destination wedding, keep your guest list small. Choose a destination with inexpensive airfare and avoid traveling during peak season.
The biggest drawback of a destination wedding is that unless you are wealthy, all your family and friends will probably not be in attendance. Many times all your invited guests will not be able to travel or get off work. Consider the schedule of your most important guests when selecting your destination wedding date.
All in all, a destination wedding can be a wonderful choice that allows you to experience your wedding in an exotic locale, combining your wedding and honeymoon in one destination.
Up next: Wedding color trends & brides on a budget