What's in
and what's out
When planning your wedding, draw inspiration from the latest wedding trends and then infuse your own personality and style. So, how do you know what's hot and what's not? Here are some of the latest wedding trends from a number of the industry's top experts. They cover everything from wedding food and budget tips to weddings that go green.
Wedding cakes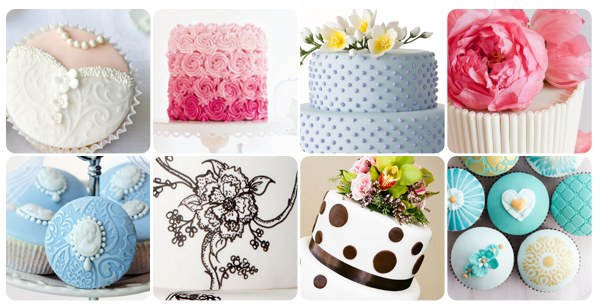 Gone are the days of white cake, white icing and a figurine of the couple on top.
"Many couples are taking their cakes to new levels with unique fillings such as caramel apple or cream cheese, while others are making each layer of the cake a different flavor," says Diane Forden, Editor-in-Chief of Bridal Guide Magazine.
"The days of the white cake are over. Brides are opting for cakes with bold colors and abstract shapes," explains Andrea Correale of Elegant Affairs Caterers.
The cupcake wedding cake is also becoming extremely popular. Instead of a fancy, expensive multi-tiered wedding cake, many couples are opting for cupcakes arranged in the shape of a cake. This is a much more affordable alternative to a traditional wedding cake.
Your guests, young and old, will enjoy the cupcakes at your reception. What's fun is that you can get the cupcakes in a variety of flavors.
If you'd like, you can still have a smaller, separate one tier cake used for the cake cutting ceremony.
Read more on wedding dessert trends >>
Wedding food
Instead of a sit down or buffet dinner, many couples are saving money by serving only cocktails and appetizers at their wedding reception. If you aren't serving a meal at your reception, be sure to plan your wedding away from traditional mealtime and indicate that it is "cocktails only" on your invitation. You don't want hungry, disgruntled guests who were expecting a full meal.
Dessert action stations are also becoming very popular. You can rent a chocolate or caramel fountain and provide lots of fruit, cake and other treats for dipping. A build-your-own banana split or ice cream sundae station is also a terrific idea.
"Fried food and heavy entrees are out," says Andrea Correale. "Lighter fare, organic cuisine, and vegetarian cuisine are definitely in."
"Serve guests an organic feast of foods produced without chemical fertilizers, antibiotics or pesticides, and top it off with organic drinks," says Diane Forden. "During cocktail hour, for example, try Square One vodka and Juniper Green gin, both fermented without additives."
Also, read up on 5 wedding food trends >>
Wedding flowers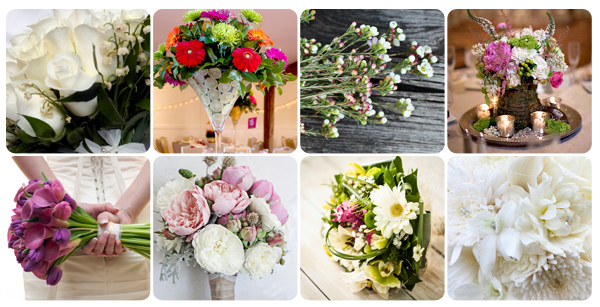 Symmetrical floral centerpieces are out. Choose centerpieces of varying size, shape and color. Stay away from using the same vases at each reception table. Choose local, organically grown flowers. After your wedding, donate the arrangements to nearby hospitals or other facilities.
"In color palettes, green is still the most sought after color with accent shades of creams and white or hot pinks and mango coral," says Clara Varga-Gonzales, owner of Tiger Lily Florist in Charleston, S.C. "However, combinations of deep burgundy red Black Magic roses, Black Forest mini Callas and rich purple, almost black, tulips are striking against ornate damask linen. No more white linen on guest tables for sure."
"Many cost conscious and younger brides are opting to veer away from the exotic, elegant vibe and instead find flirty uses for the everyday blossom," explains Tara Simone Powell, floral and event design expert and owner of Barbara's Flowers.
"Whimsical bouquets designed with gerbera daisies or dare I say 'carnations!'
Carnations, so often frowned upon as a 'funeral flower' come in a wide range of colors and of course are very reasonably priced. For a day time wedding, consider a tussy of carnations bound with a whimsical patterned ribbon!"
Or 4 ways to make your flowers environmentally friendly >>
Up Next: 5 trendy, eco-friendly ideas for planning your wedding & the 411 on destination weddings