It's All In
The Hips
I have to begin this column with a dedication. My excellent editor here at SheKnows, Aly W., went to a corporate party last week. The party had a 1980s theme. There were pop hits on the jukebox ("Love Shack" from the B-52s and "Hotel California" from the Eagles and Billy Idol's iconic "White Wedding.") There were communal tequila shots (the 80s apparently were a time of sharing). And there were Hula Hoops.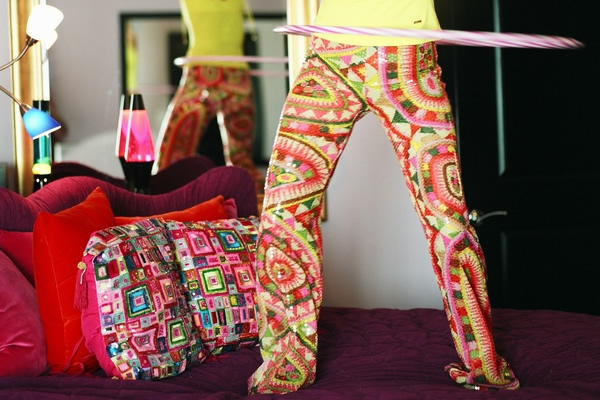 The thought of Hula Hoops made my mind spin. Hula Hooping is all about moving your hips. Was there, in the conception of the Hula Hoop, a sexual component? I decided to investigate.

So to Aly, this spin of the Hula Hoop is for you.

To begin my investigation, I googled "Hula Hoop." According to the historical record, a form of Hula Hooping began with the Egyptians 3,000 years ago. They used grape vines and propelled the hoop on the ground with a stick. According to the historical record, this was a game, an amusement, not a sex act.

The Hula Hoop came to these shores in 1957. "The zany founders of WHAM-O, Arthur 'Spud' Melin and Richard Knerr, became known as the gurus of blockbuster fads," according to the WHAM-O website. "They heard of Australian children using a bamboo ring for exercise and immediately turned out- you guessed it- The Hula Hoop toy."

So far, the Hula Hoop seemed to be a game or a form of exercise. I decided to push the envelope. I wrote an e-mail to WHAM-O, the company founded by Melin and Knerr. "When you write, on your website, that the Hula Hoop was used for 'exercise,' is that a euphemism? Was the Hula Hoop a sex toy?"

I did not receive a response to my e-mail query.

That didn't stop my investigation, however. I decided to go straight to the source, the inventors themselves. Unfortunately, both Spud Melin and Richard Knerr have passed away.  Melin died in 2002. Richard Knerr died three months ago.

That didn't stop my investigation. Online, I came across an interesting doctoral thesis, "Ways to Free your Sexual Energy" by Amelia Hirsch. In her thesis, written in the early 1980s, Hirsch suggested various "sex toys," including, you guessed it, the Hula Hoop.

I contacted Dr. Hirsch, a psychosexual therapist practicing in Atlanta. "You have to go back to the 12th century," Hirsch told me. "You have to go to Persia. Perhaps you've heard of the whirling dervishes? This was a Muslim group trying to attain ecstasy through austerity, dancing, and yes, sexual practice. They used a form of the Hula Hoop to free their hips. All of our sexual energy, the dervishes believed, comes from the hips."

My investigation had suddenly attained some kind of ecstasy. I asked Dr. Hirsch a question.  "Do you think Americans, a rather prudish people, are aware of this?"

Dr. Hirsch offered some interesting history. "Right before WHAM-O gave America the Hula Hoop, Elvis Presley went on the Ed Sullivan Show and swiveled his hips. The American censure banned Elvis from doing that. Americans, though, were crazy for hip swiveling. The statistics prove it. In the first year of production, WHAM-O sold 20 million Hula Hoops. By the end of the next year they'd reached the 100 million mark. What, you think Americans bought the Hula Hoop for entertainment reasons? On the surface, perhaps.  Subconsciously, we bought the Hula Hoop to unlock our sexual hips. The Hula Hoop was a subliminal sex toy."

I clued into one word, "We?"

"Yes," Hirsch replied, "I practice what I preach."

Dr. Hirsch also added that in the early 1980s WHAM-O reintroduced the Hula Hoop with a peppermint scent wafting from the ring.  Amelia Hirsch's "subliminal sex toy" came with "an arousing bouquet." "WHAM-O," Hirsch continued, "whether intentionally or not, had themselves a candied sex toy."

I took Dr. Hirsch's commentary to WHAM-O. I did not receive a response.