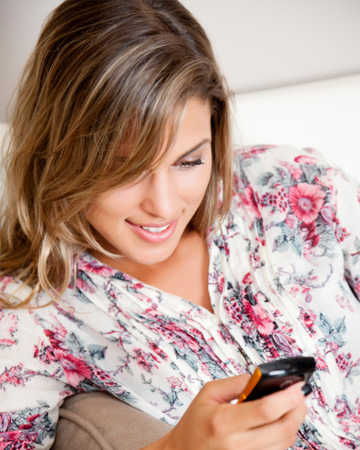 Text it to me dirty, baby
If you're like most girls, the idea of sending your lover a sexy text can be quite exciting. It also doesn't hurt knowing that the little ding of the cell phone text could alert your lover while he's in a meeting, in class, or in line somewhere. No matter where he is, he can get your message -- loud and clear.
How to flirt with text messaging
There are so many benefits to sending sweet or naughty text messages. For starters, they are a great way to keep the spice in your relationship and serve as a thoughtful reminder when received unexpectedly. If you want to let your man know what you're thinking but have a hard time saying it, the text will do it for you!
Likewise, if you've just started dating and you're ready to move your relationship to that next level, a flirty text will certainly have him intrigued and wanting more. But the best reason to send them is that they are safe and fun.
Sending a sexy text can be fun and flirty and can share good insight as to how your partner responds to verbal affection. Also, it can serve as a way to keep things heated up between you two until the next time you see eachother in person.
How 2 sxy text
Depending on what type of phone you have, you may run into the issue of having limited characters to say what you want over a text.
But you don't have to over-complicate things -- when it comes to texting, less is more. You're not writing a novel, but just delivering a fun, sexy hello. Check out these 10 ideas below for short abbreviated texts that definitely get the message across!
10 Sexy text message ideas
u look hot 2day
hey baby
i want to touch u
wanna come play?
thinking bout u right now
what r u wearing?
cnt wait 2 c u
thx 4 lst nite
guess what im wearing
u r so sxy
Long distance relationship flirty text ideas
If you and your special someone have found yourselves in a long distance relationship, here are a few sexy text message ideas to send.
Even though we are apart, my love you will never part.
Hand in hand and heart to heart my love for you shall never part.
1000 miles away and you are still right here in my heart
I'd walk a thousand miles to touch you tonight
I can't wait to be in your arms again
Can't get you out of my head
The best is yet to come
My dream come true would be waking up next to you
Being away from you is the hardest thing I've ever had to do
Romantic text Ideas
If you're a romantic at heart and just want to send the occasional text to remind you're loved one that he or she is on your mind, try one of these heart-warming romantic text message ideas.
In case you didn't know, I'll be loving you always and forever!
Loving you has been the best thing to ever happen to me!
Your love is all I'll ever need.
You are the center of my world. And for that, I am thankful each day.
Even though we are apart, my love you will never part.
You are on my mind now and always.
I love you more with each passing day.
Up next: More flirty text message inspirations >>