Rekindling Old Flames
Old flames still smolder, especially when they're early love affairs -- which leave a particularly vivid mark in our minds. Reawakening such a romance can be an incendiary experience... intensely passionate and dangerous to trifle with.
(page 3 of 5)
Her most compelling finding was the cataclysmic power of rekindled love. While most ordinary affairs don't break up marriages, reunions with first or early loves are much more risky. Some of the people she met during her research had been willing to forfeit everything -- custody of their children, friendships, businesses and life savings -- just to be together.
Even religious Christians were caught in the staggering gravity of lost-and-found love. One study participant, a clergyman from Canada, had spent decades ministering to the pain of others, yet said the hurt he was about to inflict on his wife and three children could not be helped. "This love that I have for my high-school sweetheart can no longer be denied," he said.
The Romeo and Juliet effect
These relationships may be so indelible, so off-the-charts intense, because they're forged in the hormonal fire of the teenage brain. True, teen romances often fizzle, and high-school sweethearts often don't stay together after the prom. "But when the lovers get older," says Kalish, "they can mine the depths of that early bond."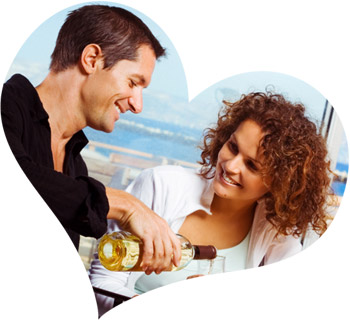 Those reunited with a first or early love after years are "simultaneously bombarded with the giddy, explosive, highly sexual but ephemeral chemicals of new love coupled with the profoundly satisfying, deeply relaxing chemicals of long-term love," says Kalish. "They are able to tap all that again only with the lost lover, with whom the bond was formed."
That makes sense to University of California at San Francisco School of Medicine psychiatrist Thomas Lewis, author of A General Theory of Love. "The adolescent brain is exposed to heightened levels of testosterone and progesterone, the steroid sex hormones involved in sexual intensity," he says. "There's also an increase in oxytocin, the same hormone that aids mother-and-child bonding following birth." Chemistry thus sets the stage for once-in-a-lifetime sexual intensity paired with a unique opportunity for attachment -- creating a model of love that persists for life.
The idea finds support in a study conducted at the University of California at Berkeley, where Jennifer Beer, then a graduate student, analyzed the first-love stories of 303 Berkeley students. Contrary to the beliefs of many psychologists, "some of the problems you have in the romantic domain may have more to do with your first love than with your parents," says Beer, who found that participants' memories of the experience ranged from "fond" to "soul crushing." Those who remembered the experience positively were more likely to perceive their subsequent romantic attachments as secure, found Beer, now a professor of psychology at the University of California at Davis.
Another reason these relationships seem so palpable and alive for so long may be due in part to what psychologists call the "autobiographical memory bump": the unique clarity of memories forged in adolescence and the early 20s. When Duke University psychologist David Rubin tested adults for recall on topics from top news stories to important events in their own lives, he found that the richest, most vivid trove of memories were those that had formed between the ages of 10 and 30.
Dan McAdams, a narrative psychologist from Northwestern University in Illinois, has found that it is during these years that most individuals also form their core identity and sense of self -- their personal mythology. The teens and 20s give birth to our personal narratives and our lifelong ideals.