Tips And Tricks For An Unforgettable Night
Though we commonly hear about infamous bachelor parties these days, especially with blockbusters like The Hangover hitting the big screen, bachelorette bashes should not be underestimated. We girls may not wind up in mysterious parts of Bangkok but we know how to have our fun and with wedding season here, it's time to gear up for some serious fun with your best girlfriends this summer. Whether you travel to a major city destination or you stick close to home, here's the 411 on planning the ultimate girls night out... or in.
(page 2 of 2)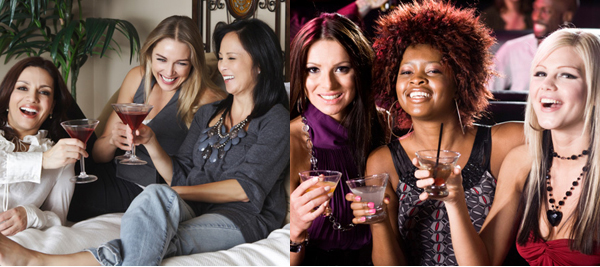 You don't have to go out of town to put together a trip to remeber for the bride-to-be. Whether you retreat to a spa for the day, host a girls-night-in or spend weekend at a local resort, here's how you make it memorable in any city.
Book a room at a bachelorette-worthy hotel
Scope out the local hotels and resorts. If you're saving money on plane tickets and travel costs, don't be afraid to splurge on a nicer, local hotel or resort. Book a room for you and the girls to stay 2-3 nights. Spend your first night out perusing your favorite bars and instead of going your separate ways, take a cab back to your room at the end of the night. Spend the next two days treating yourselves to massages and facials, enjoying drinks by the pool and having dinner at local hotspots you've been wanting to try. Splurge on a room with a stellar view and personal patio. You and the girls will have no problem turning it into your own little oasis.
If you can't go to Vegas baby, bring Vegas to you.

Get to your hotel room before the bride arrives and decorate the room to mimick the Vegas strip. Get really creative by making a trip to Kinkos and having them help you make a Vegas backdrop complete with paper-cutout buldings and a replica of the "Welcome to the Fabulous Las Vegas" billboard.

For fun, check out these 4 Wild bachelorette-party hotel rooms.


Set a theme for the big night out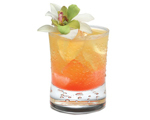 Rather than dressing up and getting ready just as you would any other night, spice things up a bit by enforcing a theme. Set rules for outfits and create fun games to go along with the theme of your choice. Here are some ideas to get your creative bone going. You'll be suprised at how many interesting rules and themes you can come up with.
Sports gear theme
Have each girl incorporate their favoroite sport's team jeresy into their outfit and make it a goal for everyone to find a guy that shares their team interest by the end of the night. Take digital or poloroid photos for documentation.
Black and white tie event
Switch it up and make the bride wear black while the other girls wear white. Give every girl a tie that matches their outfit color and make it a requirement for ever girl to give their tie away to a man by the end of the night. Make it interesting by assigning each girl a "bachelorette buddy" -- you have to give your tie away to the guy your buddy chooses and get him to buy you both a drink. Continue this trend with a rule that you have to order a drink everytime your buddy does. Fair warning: This could get a little out of control. That's the point, right?
Disco theme
This means wearing bright, neon colors that involve a lot of sparkle and bling. Explain to the DJ that you and girlfriends are out celebreating a bachelorette party and request a disco song you can all get on stage and dance too (hint: It would be in your best interest to learn some disco moves prior to the night out). Only drink drinks that come out as bright colors. For example and Adios is bright blue, or try an Orange Smash. Before the party, assign each girl a color that they have to wear and drink all night.

A spa-tastic retreat
If you and the girls aren't able to book a room for a few nights, consider this: Often major resorts and spas grant you access to all their ammenities for the day if you book one spa treatment. So, book facials for each girl and enjoy the rest of the day by the pool sipping cosmos, detoxing in the steam room or sauna and eating at the hotel restaurant. If you decide to stay for one or two nights, hang out in the hot tub and watch the sun go town as you and the girls talk about funny memories while you're making new ones. After a good nights sleep, indulge in breakfast at the resort and hang by the pool the next day. Warning: It will be hard to resist staying another night in paradise.

Get the most for your money
Manis and pedis are usually the most budget-friendly option and will still get you access to the pampering ammenities. This is a great way to combine rest and relaxation with wedding day prep. After all, the bribal party should have matching nails right? Consider booking hair appointments for the ceremony beauty prep as well. That way, the bride can go straight from a relaxed getaway to take those good feelings down the aisle.

A day of pampering with a side of dinner and drinks, please
Come prepared with an outfit fit for the nightlife scene, makeup and whatever else you'll need to get ready. After your spa day retreat, use the ladies lockeroom (usually equipped with hairdryers and fun tester products) to get dolled up. Have a nice dinner on the restaurant patio and gear up for a girls night out on the town.

Host a girls-night-in
Whether this is part of your stay-cation weekend-long celebration or the bride requested a simple girls-night-in, there are ways to up the ante of a night indoors with close friends.

Assure that the cocktails are covered
Have every girl come prepared to whip up some fancy cocktails all on their own. As the planner, give every girl a unique assignment when it comes to the drink they should plan to serve up. For example, "Come prepared with a cocktail that tastes like candy." OR set a tropical theme and have each girl come ready to make a tropical inspired cocktail.
Create a the ultimate girls night playlist
Make sure someone brings along their iPod dock or CD player and load the perfect playlist for cocktails and girl talk. Here are some music must-includes:
These Boots are Made for Walking - Nancy Sinatra
I Wanna Dance with Somebody - Whitney Houston
Sexy Back - Justin Timberlake
Cherry Pie -  Warrant
Whatta Man - Salt n Peppa
Fun - Cyndi Lauper
Material Girl - Madonna
Love Shack - B 52s
It's in his Kiss - Betty Everett
Also check out this playlist for all things summer for some songs that will really get the party going>>
Make it a movie marathon: Chick flick fever
If you can all promise to not fall asleep and kill the party, have a movie marathon. Stick to the typical chick flicks or simply watch your favorite movies while getting a little tipsy with the girls. If somone you know has a projector that you can borrow, have the movies playing on mute as the film projects on an empty wall. It will make for a unique decoration perfect for a girls night. Make sure to stock up on snacks, drinks and other sugary goodies.
Welcome to the picture show: Girls only
No bachelorette party is complete without reminding the bride-to-be of her most embarassing past times. Make sure all the girls attending contribute pictures from their most memorable times with her and remember, this is not a reception-appropriate slideshow -- girl's eyes only.
Don't feel restricted just because the bride wants a girls-night-in. You can still apply themes and rules that will make the night interesting and unforgettable.

Here are 5 New girls-night-in party themes >>

More on engagements