Making Love
Super-Memorable
It's always a good idea to sneak over to the "other side" and get a guy's opinion on what sex moves make sex unforgettable. (As in, he's still thinking about it an hour, a week, a year later!) We rounded up a few opinions from real men around the web to give you a naughty idea or two for tonight.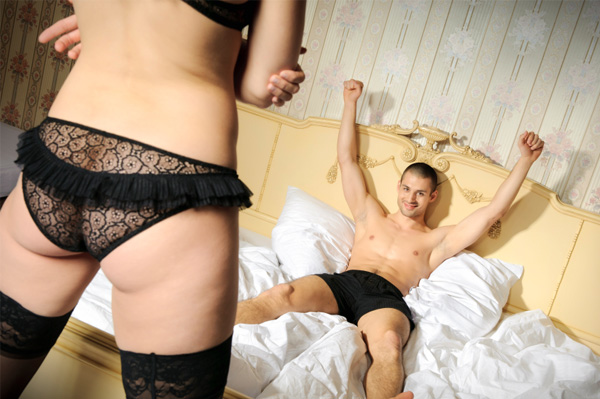 What sex moves guys loved
In a classic Cosmopolitan story, one strategic move cemented itself as mind-blowing in one guy's mind:  "She went down on me, naked, with a mirror placed behind her."
Grabbing a mirror is easy, inexpensive, and if you know your man likes pornography and you'd rather be the girl in the movie than watch a skin flick with him, then this is the way to go. With a floor-length mirror behind you, he'll see everything — and we mean everything! — you're doing, just like in the movies, except way better, because he's watching himself. For men, sex doesn't get much better than that!
Another real-life guy from the Cosmo piece said while he kissed his girlfriend, she'd reach down and masturbate. Talk about an ego boost for him. If he's kissing you and it's so pleasurable that you can't control yourself (or your hands), now that's a vote of confidence.
"43 percent of people named doggy style as their favorite position."
You don't even have to go crazy to give your guy something to think about. Instead, try letting go and going with the flow. At GirlsAskGuys.com, one commenter said he loves a woman who enjoys herself: "I love when a girl rides me, just being able to watch her body move and her hair flow as she looks into my eyes while moaning drives me crazy."
And one more from the Cosmopolitan story: "Si" said one of his favorite moments in the sack was when his partner gave commentary on an imaginary threesome they were having with another woman. That's one way to have a threesome experience without actually going through with it.
And if you're looking for a quick fix for memorable sex ASAP, our very own Sexcerpts blog reported that, according to a poll, 43 percent of people in a mostly-male poll named doggy style as their favorite position. Blow his mind by switching positions mid-missionary to give him a rear view.
Tell us
If there are any men reading, what do these sex move suggestions do for you? What has your wife, girlfriend or past sexual partner done to "wow" you in such a way that you'll never forget? Tell us about it below!
More sex
Sex positions for mind blowing orgasms
6 Steps to a sexy massage
5 Things he wants you to say in bed