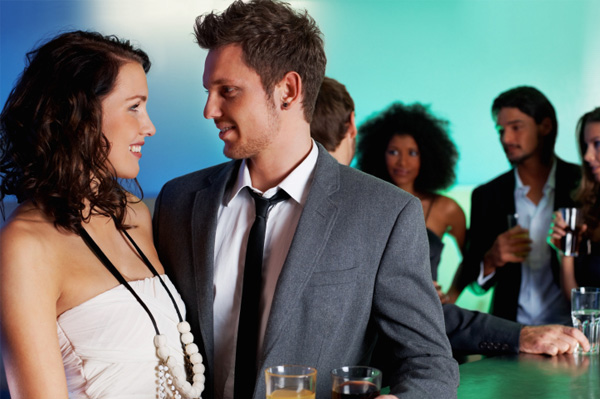 Party girl
Don't expect to meet your soul mate this week. The planetary energy is far too wild and raucous. If you're feeling sensitive and vulnerable, then you'll want to hang back. But for those of you who are just coming out of a bad relationship or who want to cut loose, then this is the time to be out and about. Venus, planet of love, becomes the party girl planet when she forms a trine to Uranus making this the perfect week for booty calls, friending with benefits and breakup sex. Just remember that it's all about having fun. Sex without love doesn't mean that you're turning into Miley Cyrus or that you'll have to take up twerking or anything.

ARIES (March 20 – April 18)
You need to follow your head because your heart isn't the best judge of matters when there's a lunar eclipse in Aries on Oct. 18. You have all the information you need to determine if a relationship is right for you or not. If it is? Terrific. If not? Then it's time to bring things to a close. You have a clear plan on what you want in life and you shouldn't be made to feel like you are asking for too much when he is delivering so little.

TAURUS (April 19 – May 19)
Ready for something completely different? That's the question that the stars will be asking when Venus forms a trine to Uranus on Oct. 16. There's always something peculiar and exciting about matches formed under these planetary energies. That's because it's the nature of Uranus (the planet of revolution and change) to upset our expectations by tipping certain sacred cows. This can be maddening and frustrating, but it can also be enlivening and invigorating as well. Be open to whatever transpires. It promises to be the romantic adventure of a lifetime.
---

GEMINI (May 20 – June 19)
It's never easy watching a loved one go through a rough patch. It brings out all of your protective instincts as you will want to fly to the rescue. But the best thing you can do right now is to let him fight his own battles — even if he sounds defeatist. What he wants most right now is your belief, not answers. The answers he will work out for himself. And when he does he'll be grateful for the fact that you never gave up hope and that you always had faith in him.

CANCER (June 20 – July 21)
This is not a good time to try to get together with someone new because there's too much other stuff going on right now. Lunar eclipses always bring drama. If you're not the one dealing with comings and goings of an emotionally draining ex and/or a deadbeat spouse, then he is. Any conversation you have right now would be all about this and not about you. That's why it's best to exchange names and numbers and to make plans to get together after Nov. 11. You'll both be in a better space by then.
---

LEO (July 22 – Aug. 21)
Well, the love part of the equation looks great, but the money part leaves something to be desired. Either money pours through his fingers like water or he is living way beyond his means. Then again he could be going through a dry spell when it comes to work. In any case it's a good idea to put any solid plans for the future on hold until he can get his act together. You don't want to move in with him only to wind up carrying the burden of debt.

VIRGO (Aug. 22 – Sept. 21)
You understand how people can go through a tough time where life keeps hitting them when they're down. That was the story of your life not too long ago. Remember 2007 thru 2010? That said you don't want to be saddled with a loser. After all, if you pulled yourself up by the bootstraps, then so can he. Wait until after Mercury emerges from its shadow period on Nov. 27 before making any final decisions about your relationship. This will tell you if he's a winner or a whiner.
---

LIBRA (Sept. 22 – Oct. 21)
This week is when you get serious about who you want in your life — and who you don't. The lunar eclipse on Oct. 18 is pushing you to get rid of those toxic associations and thankless obligations that have grown up around you in recent months. You need to reach out and connect to the people who truly get you on a deep and soulful level; people who will encourage you to be the best person that you can be and who want you to live the best life possible.

SCORPIO (Oct. 22 – Nov. 20)
Scorpio (like Capricorn) is sensitive to the shifting balance of power in a relationship. You don't like to feel that anyone has the upper hand over you, which is why you will do things to keep him guessing, hooked or both. But surely you must realize that these sorts of head games are no substitute for intimacy and that playing them only creates distance. Take advantage of the emboldening energies of the Venus/Uranus trine on Wednesday to step out from behind the facade and be a more authentic you.
---

SAGITTARIUS (Nov. 21 – Dec. 20)
Do yourself a favor and stop saying that you're buying when you're really just window shopping. You just aren't in the headspace — or the heart space — to make any big commitments now. That's because Venus in your zodiac sign gives you a wandering eye and you'll be convinced that you can do better than the fellow you're seeing at the moment — even if he happens to be George Clooney! The important thing to remember is that you're looking for the right fit and you'll know him once you spot him.

CAPRICORN (Dec. 21 – Jan. 18)
Don't be surprised if that guy you were seeing last April makes a reappearance this week. If it's not him, then it might as well be his psychic twin. In any case, you will want to give things a fresh hearing. A lot has gone down in the past six months and contrary to conventional wisdom, people really do change. Especially when there is so much Uranian energy coursing through the heavens. And if this is a whole new fellow? Then give him the chance that he deserves. You won't be disappointed.
---

AQUARIUS (Jan. 19 – Feb. 17)
You've never had a problem with hand-me-downs. This applies to clothes and cars as much as it does to love. This week it looks like someone who was dating a friend of yours is back on the market and making eyes at you. It's exciting, but being the conscientious Aquarian, you'll naturally want to make sure that you aren't putting anyone's nose out of joint by seeing him. Put out feelers, but don't make a big deal of it. Asking his ex to give you her blessing is taking things too far.

PISCES (Feb. 18 – March 19)
You are drawn to men who want to mold you. It's why you attract controlling, critical types. And you will go along with what he says for a while. You'll change your look, how you talk and even the friends you see. But after a while you get tired of the charade and wind up walking out on him. Do yourself a favor next time and just be who you are — right at the start. It may surprise you to discover that there are men who love you just the way you are.
More horoscopes
Your weekly horoscope
Your weekly career horoscope
Your annual love horoscope for 2013