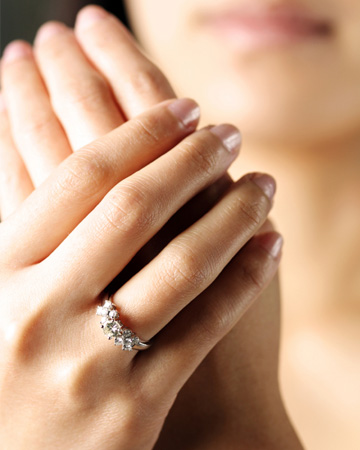 Flash some right-
hand ring bling
Regardless of your inspiration or relationship status, a right-hand ring can be a powerful statement that you're independent, opinionated and proud to be who you are.
A symbolic accessory
We all know that left-hand ring fingers are set aside for an engagement ring or wedding band, but that doesn't mean that right ring fingers need to remain unadorned. In fact, many women enjoy their right-hand rings even more than traditional engagement rings because they can be a bold reflection of a personal fashion aesthetic.
If you're uncertain about whether or not a right-hand ring is for you, rest assured that all women — single or not — can benefit from a little right-handed bling. "A right-hand ring is a symbol to commemorate a special life event, like an achievement or birthday, or to project success and personal style," says Julie Yoakum, Chief Merchandising Officer at Blue Nile. "Right-hand rings can be subtle or bold, and they're often chosen to echo a favorite design style."
Although a right-hand ring is appropriate for both the single and married, many single women opt for a stunning right-hand ring because they don't want to postpone a dazzling diamond while they're waiting for "Mr. Right." For this reason, right-hand rings are often seen as the battle cry of single and successful women.
Finding a right-hand ring that works for you
The beauty of the right-hand ring is that there are no rules for its design. A woman can choose a simple and inexpensive right-hand ring, or she can spend her entire life savings on an eye-popping diamond setting. However, before making a significant jewelry investment, consider the following inspirations for a right-hand sparkler.
Birthstones. Many women choose to stun with a right-hand setting that features their birthstone. Quite often, the gemstone is big and bold and set with diamonds or white sapphires around its edges. A right-hand ring inspired by a birthstone can project that a woman is happy to be alive and proud to be who she is.
Cocktail conversation pieces. For women who like to change their style frequently, it may make sense to pick a cocktail ring that won't break the bank. Cocktail rings are trendy and visually interesting, and they usually feature stones that aren't quite as pricey as diamonds or gems.
Exciting achievements. Sometimes, women reserve their right-hand ring fingers for a ring that celebrates a milestone anniversary or a major success in the office. These rings often feature large diamonds in a unique setting to set the piece apart from an engagement ring.
Celebrating singleness. Whether it makes sense or not, milestone birthdays sometimes feel disappointing to women if they remain romantically unattached. Many women approaching their thirtieth or fortieth birthday, or perhaps facing their first birthday following a divorce, may choose to celebrate themselves with a flashy diamond ring to signify that they're making it on their own and that they don't need a man to enjoy beautiful jewelry.
More from Single Girls' Guide
Make the best first impression
How to be seen as more than a friend
4 Signs he's definitely not a keeper