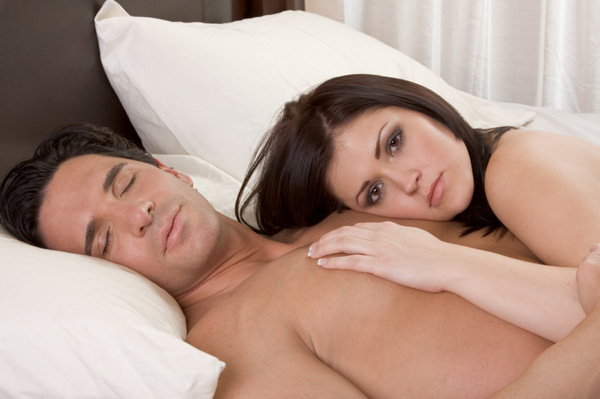 Toxic
Is it better to be the beloved or the one who loves? You're either one or the other when Venus forms a conjunction to Saturn in Scorpio on Sept. 18. The difficulty with this particular planetary energy is that lovers are rarely on the same emotional page. Either you know that he's more into you than you'll ever be into him but you can't let him go (usually for security reasons) or you're the one who loves too much and it drives you crazy the way that you hang on his every word. Relationships that become entangled under Venus/Saturn conjunctions rarely turn out well, so it's probably a good idea to disengage while you can.

ARIES (March 20 – April 18)
As an Aries, you tend to go for the aloof, hard-to-win-over types. The more cool and removed the better. This would be very romantic if there was something behind that facade, but the stars show that there isn't. He's a cold fish. So enjoy the flirting, the tête-à-têtes and the double entendres, but don't take it seriously. This will be especially hard on the 20th when he opens up about a past emotional wound, but don't fall for it. He's doing this to keep your interest — he's not really sharing.

TAURUS (April 19 – May 19)
You've had better weeks. Ruling planet Venus passing under the beams of Saturn on Sept. 18 is analogous to slipping into a warm bubble bath only to have someone suddenly turn on the cold shower instead. Things are bound to be tough in your relationship, but have you really reached the point of no return? Sometimes it's only when you get to that point that you're able to see things in a way you never saw them before. The full moon on the 19th cautions against throwing the baby out with the bathwater.
---

GEMINI (May 20 – June 19)
The honeymoon's over as Wednesday's Venus/Pluto sextile shows you transitioning from rosy infatuation to thorny reality. This is when you'll see personality traits from ex-boyfriends past rear their ugly heads. Wasn't this guy supposed to be different? He is. But we're often attracted to qualities in lovers that we find familiar. Unfeeling Daddy begets indifferent boyfriend; judgmental Mom begets critical spouse, etc. It's how we fluff up the pillows to our emotional comfort zone. You can always change the bedding if you want to, but you have to be in a relationship to do it.

CANCER (June 20 – July 21)
Some people grow to love each other over time. This may sound like something you'd expect to hear if you were living in an arranged marriage in the 17th century, but there's truth to it. The problem with the current culture of cut and run relationships is that it doesn't allow people to form lasting bonds — bonds that are often formed by facing hardships together. The Venus/Saturn conjunction on Tuesday would typically signal the end of a romantic tie, but the rare sextile to Pluto proves that there's love in it yet.
---

LEO (July 22 – Aug. 21)
This isn't a good time to start anything romantic — not with Venus conjunct Saturn at the base of your solar horoscope. This is as cold as cold can be and there's nothing you can do to light a fire — even if you're the clone of Mila Kunis (who happens to be a Leo). However, it is favorable for divorce suits because you will get excellent terms. Not the most romantic sounding forecast (sorry), but it's useful to those who are pressing ahead with unsavory matters that need to be pressed ahead with.

VIRGO (Aug. 22 – Sept. 21)
Did you meet someone last April whom you clicked with but nothing came of it? Well, you might want to touch base with him — or at least that friend who introduced you to each other — on Sept. 20th to see what's up. You could discover that things have changed relationship-wise and that what was once a dead end is now an open door. If this doesn't apply, then look to hear from an old flame during this time. Pluto coming out of retrograde often reintroduces old loves back into our lives.
---

LIBRA (Sept. 22 – Oct. 21)
Your feelings couldn't be more confused these days which is why you're better off not doing too much psychoanalyzing. You know that you're involved in a "toxic" relationship (your friends never tire of pointing it out), but at the same time you really do feel like there's someone good deep inside trying to find a way out. And there might be. But just because someone has a good side doesn't mean that he's a good person. Nevertheless be cautiously optimistic because there may be signs of hope after the 19th.

SCORPIO (Oct. 22 – Nov. 20)
This is not the best time for a nip or a tuck because you won't stop there. Venus, the planet of beauty, is in your zodiac sign but your idea of what's beautiful is apt to be askew when Venus is under the beams of critical Saturn on the 18th. Nothing will look right, feel right or be right and this could lead you to go overboard in the opposite direction. The same thing applies to makeovers, wardrobe shopping and even redecorating. This overly self-critical planetary influence will lift after the 26th.
---

SAGITTARIUS (Nov. 21 – Dec. 20)
You won't feel like going out much this week — not with the full moon triggering all of your feelings of rootlessness and insecurity. If anything you'll want to stay in bed and pull the covers over your head. Nevertheless it's time to remember that you were born under one of the most optimistic and future-oriented signs of the zodiac. You have always believed that the best is yet to come and in truth it is. This is something that will be validated on Sept. 26 when you emerge from your cocoon.

CAPRICORN (Dec. 21 – Jan. 18)
Pluto comes out of retrograde on Friday and the first thing you'll notice is that the guys are starting to sit up and take notice of you again. There are different types of magnetism in astrology. For instance, the sun is radiant, Venus is seductive and Neptune is hypnotic. Pluto is pure animal magnetism (sex appeal). It's something that's been missing from your life for the past few months (since April 12 to be exact), so you'll be glad to see that it's back in full force again.
---

AQUARIUS (Jan. 19 – Feb. 17)
You will be looking to rub shoulders with movers and shakers this week, and with Venus forming a spectacular sextile to Pluto on the 18th, you can expect them to rub back. Admittedly this planetary configuration makes you more interested in money than love, but what's wrong with that? You've done the down-on-his-luck, trying-to-find-himself, creative guy thing and you're ready for something more uptown. There's something undeniably sexy about someone who packs a six-figure salary. He may not have six pack abs, but then you can't have everything.

PISCES (Feb. 18 – March 19)
Why is there always some barrier that stands in the way of you and the person you yearn for? It could be said you like it like that. There's something intrinsically romantic about falling in love with someone locked inside a loveless marriage, who's burdened with a brooding secret or who's here on a temporary visa. Enjoy your romance while it lasts because it may be over by Sept. 26. That's when you'll awake to find that that barrier has been magically removed and when the reality of actually being together sinks in.
More horoscopes
Your weekly horoscope
Your weekly career horoscope
Your annual love horoscope for 2013