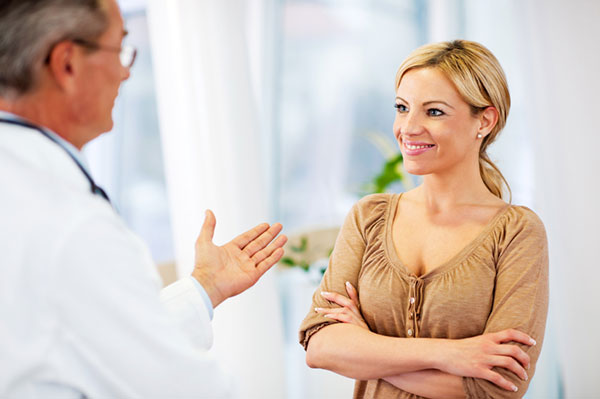 make sure to ask your OB-GYN these questions
It's not easy to remember all the different things you should ask your OB-GYN when you go in for an annual visit. Forgetting to ask questions about contraceptives, family history and preventative screenings can leave you asking even more questions when you return home. Here are some questions you should be asking your OB-GYN.
Not sure what to ask when you're face-to-face with your ob-gyn? Here are some important questions everyone should ask their doctor during their annual visit.
Family history
Talk to your OB-GYN about your family history — it could save your life. Your doctor will be able to tell you what conditions may be hereditary as well as what symptoms you should watch out for, says Dr. James Wheeler, an OB-GYN and spokesperson for The Expert Institute.
This is especially important for problems that research has shown can be linked to family history, such as breast, uterus, ovary and colon cancers, Wheeler says. Your doctor may also recommend further screenings to assess your risk for hereditary cancers or diseases.
Contraceptives
Because contraceptives are an extensive topic, Wheeler says it's important to be prepared with questions when visiting your OB-GYN.
"Preface your questions by explaining your purpose — you're looking for a brief but complete discussion of the available choices and their relative risks and benefits," he says.
Ask about relative risks versus benefits, the costs of usage and any medical follow-ups, impacts on future fertility, any beneficial side effects and how easy or safe it is to discontinue a method, Wheeler suggests.
Cycle
One of the most common questions an OB-GYN asks is "What date was the first day of your last period?" If you have questions or concerns about your cycle, your visit to the OB-GYN is the time to ask. Irregular periods or missed periods can be a sign of other conditions, such as hormonal abnormalities or polycystic ovary syndrome.
Preventative screenings
Depending on your age, you may be due for certain preventative screenings such as Pap smears, cervical cancer screenings or mammograms. Knowing when you should routinely be screened for diseases and cancers that affect millions of women each year not only will give you the power of knowledge but could save your life as well.
Symptoms
Ask your doctor specifically about any abnormal symptoms you're experiencing — or ones to watch out for. Dr. Allison Hill, an OB-GYN and one of the featured doctors on Deliver Me on Discovery Health, says she's found many patients are embarrassed to ask about abnormal vaginal symptoms.
"In fact, a recent Monistat survey revealed that nearly one in 10 women are too embarrassed to talk to their doctor about a yeast infection," she says. "We've seen and heard everything, and your doctor is no exception."
Future issues
Wheeler suggests asking your OB-GYN, "What issues do you foresee becoming more important to me soon?"
Depending on your age, certain conditions could be right around the corner, such as menopause, increased risk for certain types of cancer or starting a family.
"Take a list and rehearse the wording of your questions," Wheeler says. "Make sure you get understandable answers during your brief but very important time with your caregiver."
More ob-gyn articles
5 Things to discuss at your next OB-GYN appointment
What to expect at your postpartum checkup
10 Questions women are embarrassed to ask their doctor