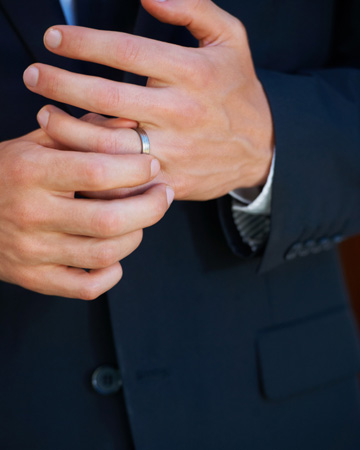 Man rings
Think women get to have all the fun when it comes to engagement rings? Think again! Turns out men want to get in on the action with "man-gagement" rings. Jacqueline Brechner from James Allen jewelers weighs in on the trend.
Nowadays, ladies aren't the only ones who like a little bling around their fingers. More and more men are opting to wear "man-gagement" rings — engagement rings for men.
In many ways, a "man-gagement" ring is a symbol of shared values between partners. Whether it is a "man-gagement" or traditional female engagement ring, both represent the same principles — commitment, love and the promise to marry.
At James Allen, we've seen a recent increase in "man-gagement" rings. A lot of men are starting to wear them, sending the message that they are engaged and no longer on the market. Other retailers such as Blue Nile and Gemvara also offer "man-gagement" ring options.
A rising trend
So why the sudden emergence of this trend? "Man-gagement" rings are gaining popularity for a variety of reasons. Gender roles are more balanced than ever — especially when it comes to engagement and marriage experiences. An increasing number of women are opting to propose to their boyfriends and on the other hand, some men think it's unfair that only women get to wear engagement rings. Also, with same-sex marriages on the rise, more males are looking to buy rings for their partners.
What makes them different?
When compared to female engagement rings, "man-gagement" rings tend to be thicker and more masculine looking. The most popular choice is by far a classic band in white gold, yellow gold, platinum or palladium. Some men prefer carved rings, which add depth and texture while giving a more rugged feel. Last but not least, many men choose "man-gagement" rings with single or multiple diamonds for a touch of flash.
Just like with all engagement and wedding rings, there is no right amount to spend on a man-gagement ring. Make sure you stay within your budget and don't over-extend yourself.
Styles we love
Here are some of the most popular "man-gagement" ring styles that we are seeing!
More wedding style tips
Ring shopping tips
Celeb-inspired wedding day 'dos
DIY wedding hairpiece