Dress and rings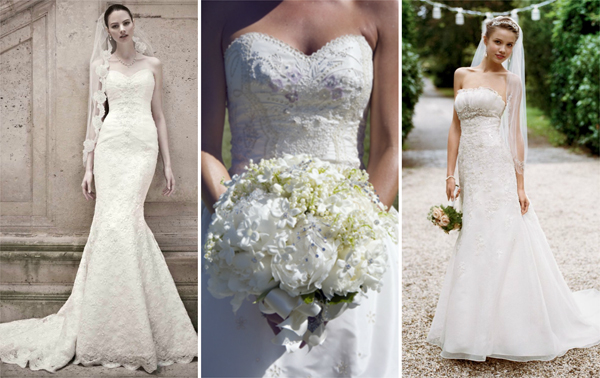 Jennifer's style is timeless yet chic, so I would love to see her in a lace-top strapless white gown. I also envision a vintage-inspired platinum wedding band with delicate engravings and diamonds. A thick hammered or woven men's wedding band set in platinum would perfectly complement Justin's daily uniform of jeans, boots and leather jackets. Since platinum lasts forever, Jennifer and Justin can pass along their rings as heirlooms to their children.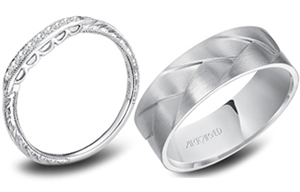 Decor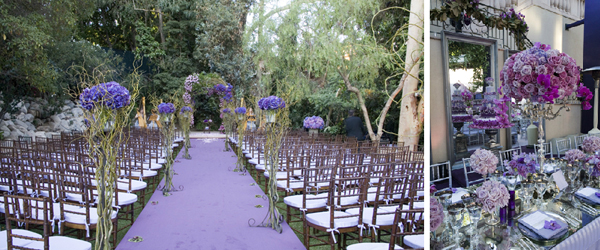 I love the idea of a romantic setting for Jennifer's wedding to Justin, as we all know her as the sweetheart next door. As Jen is a California girl, an outdoor affair with lots of purples and violets, with accents of white, would suit her perfectly and create a romantic setting. Tons of sterling and lilac and pink roses would create a beautiful garden feeling. Nothing too fussy for Jennifer — just tasteful and down-to-earth.
Food and drink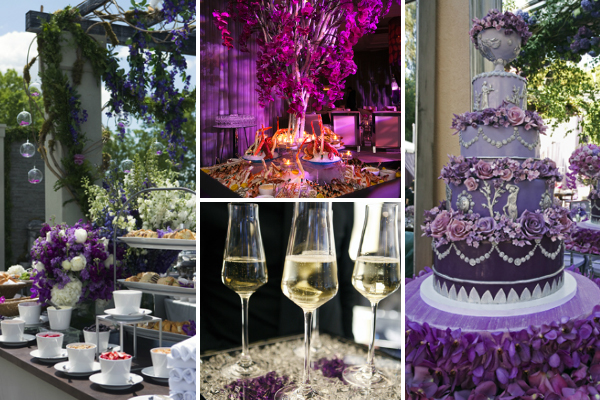 Food and drink should be simple and elegant. The wedding should begin with bite-size appetizers of shrimp, vegetables, cheeses and tiny slices of filet mignon, passed on trays. I would then design a fabulous sit-down dinner with a fish and a lovely lamb dish and plenty of fresh vegetables and vegan options.
Wedding favors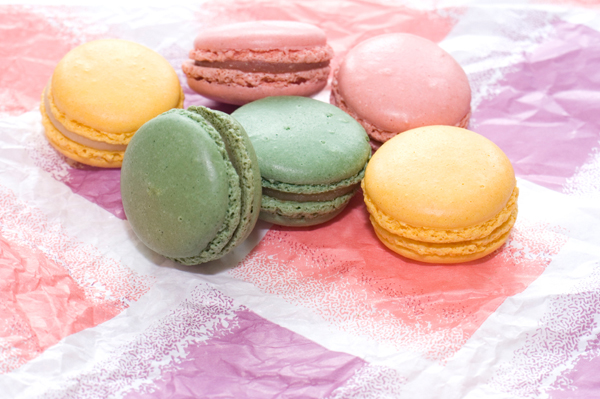 How do you choose a favor for guests at Jennifer and Justin's wedding? The guests are sure to already have everything! So I would suggest sending everyone home with a fabulous box of treats — a piece of the wedding cake and some of the delicious goodies from a dessert bar. Macaroons are the new favorite dessert, and I would offer an assortment of interesting flavors like chocolate and pistachio from La Maison du Pain.
Wedding rituals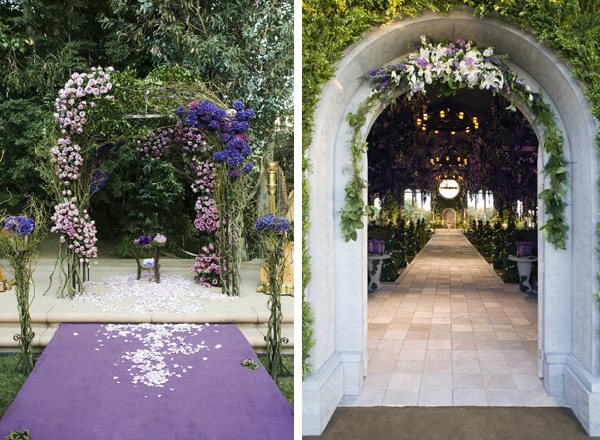 I'd create a beautiful arbor at the start of the aisle. Before the ceremony begins, guests could be invited to write down best wishes for the couple that can be attached to the arbor. The bride and groom will walk through the "ribbon of wishes" and will have them as a memento of their special day.
Tell us
How would you style Jennifer Aniston's wedding to Justin Theroux? Sound off below!
About Colin Cowie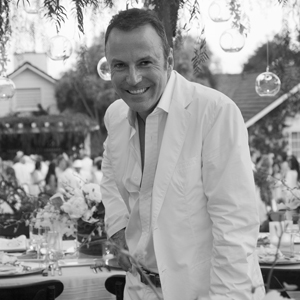 Respected around the world as an arbiter of style, Colin Cowie has been at the forefront of event and wedding planning for the past 25 years, creating trends and raising the bar for creating the ultimate experience for guests. Cowie is a designer for lifestyle products sold on HSN and an author of eight best-selling books, and he is now at the helm of a new digital venture that is revolutionizing the online wedding-planning industry. ColinCowieWeddings.com launched in October 2011 and is quickly becoming the most compelling place online to reach the modern wedding-bound couple. Engaging the engaged with a dynamic, fresh look; exclusive original content; and a proprietary social network, Cowie combines his expertise as one of the world's foremost authorities on wedding planning and lifestyle with state-of-the-art technology to assist the modern digital couple in planning the most stylish day of their lives.
More on celebrity wedding style
Elizabeth Taylor's first wedding dress sells... for $188K!
Copy Kristin Cavallari's wedding dress for less
See Holly Madison's unique engagement ring