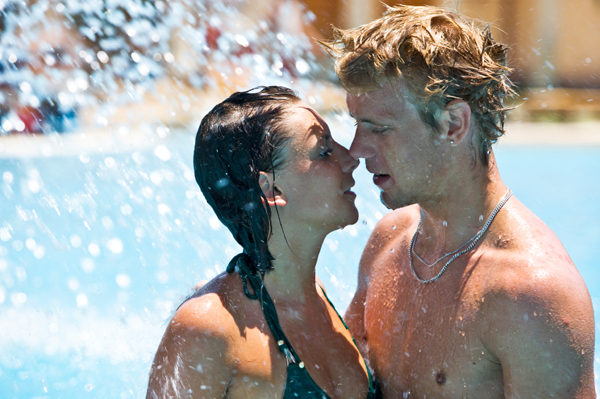 Water of love
A grand trine is a triangle in the heavens formed by the appearance of one planet in each of the three zodiac signs of like element. This week's grand trine will be in water, the element of love. But this isn't love born of heat and passion (like fire) — this is love born of depth and compassion. It is the nature of water to mix and blend, to drop pretenses and to draw closer. Water erases the lines that separate you from people you once cherished, dissolves emotional distances between friends and replenishes the near empty reservoirs of goodwill in your life. Grand trines bequeath good fortune and prosperity.

ARIES (March 20-April 18)
Uranus does an about-face on Wednesday and so will you. All of that passion you've been feeling will be thrown into reverse and you'll want to put as much distance as possible between you and that guy you were seeing. So how will you explain this sudden change of heart? You can always say that you have a twin sister that he confused you with or that you suffer from multiple personality disorder. Then again, you can just ask for a time out. It's not a crime you know.

TAURUS (April 19-May 19)
You're betwixt and between love interests these days. There's the one you're saying goodbye to and the one that you're getting to know better. Stay flexible, fluid, and take each day as it comes. You've outgrown the person you used to be and aren't too clear on what comes next which is why you don't want to make any commitments or promises you can't keep. Stay open-minded, open hearted, and more importantly, have fun. It's rare when you get to be this free. Enjoy it while it lasts.
---

GEMINI (May 20-June 19)
There's a lot of water energy flooding your horoscope right now which is why you feel so heavy — both physically and emotionally. This is not the time to beat yourself up about your weight (water retention can't be helped) or to rationalize your feelings. Just let them be and go with the flow. You may feel like you're a swamp of mewling needs and whining worries, but loved ones couldn't be happier. They like spending time with that soft side of you that you keep bottled up inside.

CANCER (June 20-July 21)
You'll find emotional peace of mind thanks to the grand trine in water signs forming in the heavens above. This celestial configuration is analogous to a streaming fountain of goodwill that replenishes itself. The cardinal values of compassion, empathy and mercy will be on full display — almost as if somebody upstairs put something in the drinking water so that everyone in your life woke up one day and decided that it would be better to be nice to each other rather than to fight over this and that.
---

LEO (July 22-Aug. 21)
Things don't look like they're going to work out and somehow that seems all right. It's an amazing realization given what you've invested in this relationship, but that might be the point. Leos don't have to pair up. Obviously you'd like to find your true mate, but it's not a deal breaker. You can go it alone if necessary. It's this kind of strength that gives you the courage to get off a bus you know is headed in the wrong direction and to look for one that is going the right way.

VIRGO (Aug. 22-Sept. 21)
Neptune in Pisces continues to work its magic in that part of your solar horoscope that pertains to relationships. It's introducing a depth of feeling and a range of emotion that you never experienced before. It's strange to say, but it almost doesn't matter what happens in your romantic relationship because you know that this wellspring of love will never go away. There are certain times in life when we grow into our talent, beauty or when we come into our own. This is the time when you are growing into your heart.
---

LIBRA (Sept. 22-Oct. 21)
It's your job to hold a relationship together. But you're not doing it for yourself — you're doing it for the good of the relationship. This is why you will hold on long after others would have abandoned ship. Uranus retrograde on July 17 brings an end to the storm and you'll get to enjoy peace and stability after months of tumult. You will also receive a loving show of thanks from those people you stood by. They know they haven't made life easy and want to make it up to you.

SCORPIO (Oct. 22-Nov. 20)
What if the love of your life is the very person you've been resisting and putting off? It happens all the time in romantic comedies. The wonderful thing about the grand trine in water is that you and he will come to the same realization at the same time. No more playing hard to get or one-upmanship. Speak from the heart on the 19th and he'll do the same. It will be truly transformative. Afterwards you can go back to the bickering and fighting that you enjoy so much.
---

SAGITTARIUS (Nov. 21-Dec. 20)
Your home life is your top priority now and what you want is domestic bliss when you return at the end of the day. Unfortunately, loved ones may not be on the same page with this. Your spouse may be a real pain-in-the-derriere right now, your grown-up kids may be boomeranging in one week and out the next, and even your own parents (particularly your father) may not have gotten the memo that you are an adult now. You need to establish who's in charge — sooner rather than later.

CAPRICORN (Dec. 21-Jan. 18)
This is an incredibly fulfilling week for you. The grand water trine will be blessing every one of your relationships — even your workday ones — and you will feel surrounded by more love than you have ever felt in your life. In fact, it could get to be a little much on Wednesday and Saturday. Nevertheless, you should lower those walls of yours and join in the group hug. This is the sort of thing that you've longed for and even if it feels awkward and embarrassing, it's still a wonderful experience.
---

AQUARIUS (Jan. 19-Feb. 17)
You have a lot on your platter right now. You're carrying the weight of enormous personal responsibility while dealing with the emotional welfare of loved ones and friends. What's amazing is that this hasn't overwhelmed you. In fact you appear to be thriving. What gives? There are certain zodiac signs that do well under pressure. It's kind of like those deep-sea fish that live at the bottom of the ocean. That said, you should still find time to pamper yourself. Maybe a quick trip to the spa on the 19th?

PISCES (Feb. 18-March 19)
Wow. You really like that guy you've fallen for. And with Mars and Jupiter passing through that part of your solar horoscope that pertains to romance, it looks like he's really into you too. So can you trust it? Yes. But you're going to have to be more expressive in your feelings and less "mysterious." As a Pisces, you know how you can hold back emotionally for the sake of creating intrigue and keeping his interest. Trust that you are far too fascinating to be playing such games.
More horoscopes
Your weekly horoscope
Your weekly career horoscope
Your annual love horoscope for 2013
More From SheKnows Explorer