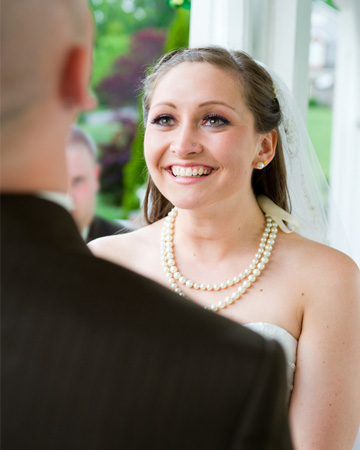 Wow with your wedding vows
So you've decided to write your own wedding vows, and the pressure is on to come up with something ultra-sentimental. Make life easier by garnering inspiration from the best love quotes out there.
Whatever style of vows you prefer — whether sappy, spiritual or humorously honest — here's a roundup of 15 quotes that are so thoughtful, even your wedding officiant may cry.
If you're looking for funny…
It's so great to find that one special person you want to annoy for the rest of your life. — Rita Rudner
We're all a little weird. And life is a little weird. And when we find someone whose weirdness is compatible with ours, we join up with them and fall into mutually satisfying weirdness — and call it love — true love. — Robert Fulghum
When you realize you want to spend the rest of your life with somebody, you want the rest of your life to start as soon as possible. — Harry (Billy Crystal), When Harry Met Sally
If you're looking for spiritual…
Be completely humble and gentle; be patient, bearing with one another in love. — Ephesians 4:2
The hunger for love is much more difficult to remove than the hunger for bread. — Mother Teresa
Faith makes all things possible… love makes all things easy. — Dwight Moody
If you're looking for a little sap…
When I saw you, I fell in love, and you smiled because you knew. — Arrigo Boito
I love you. Very, very simpl[y], very truly. You are the epitome of everything I have ever looked for in another human being… — Holden (Ben Affleck), Chasing Amy
If you live to be a hundred, I want to live to be a hundred minus one day so I never have to live without you. — A.A. Milne
To get the full value of joy, you must have someone to divide it with. — Mark Twain
The secret to having a good marriage is to understand that marriage must be total, it must be permanent, and it must be equal. — Frank Pittman
Extra cheese, please…
It's not gonna be easy. It's gonna be really hard. We're gonna have to work at this every day, but I want to do that because I want you. I want all of you, forever, you and me, every day. — Noah (Ryan Gosling), The Notebook
Love is composed of a single soul inhabiting two bodies. — Aristotle
It's an extraordinary thing to meet someone who you can bare your soul to, and who'll accept you for what you are. — Edward Cullen (Robert Pattinson), The Twilight Saga: Breaking Dawn - Part 1
For it was not into my ear you whispered, but into my heart. It was not my lips you kissed, but my soul. — Judy Garland
More quotes about love
Top 50 famous love quotes
Our favorite love quotes from '80s movies
Say I love you with these quotes for Mom