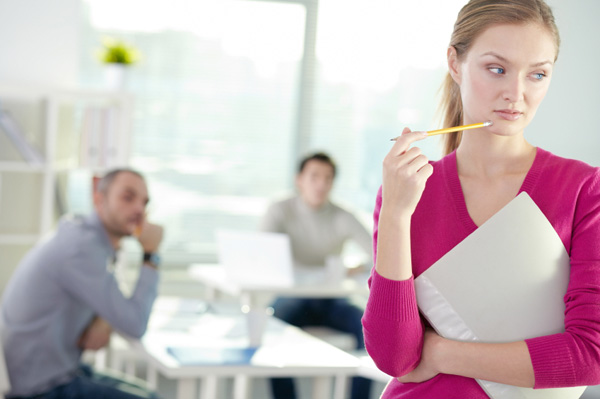 Musical chairs
You'll want to watch your back this week. The stars are playing musical chairs with the work roster again, which means that people who were on top will be out and people who were on the outs will be back in. This sort of thing used to happen in Renaissance Italy all the time, which is why it pays to be a little Machiavellian. Don't be so fixed in your loyalties, and find a way to be nice to both friend and foe alike. You never know who's going to be sitting where when the music stops on June 19.

ARIES (March 20-April 18)
Your brusque manner is making colleagues bristle. Everyone knows that you're intense and have a steely focus when it comes to getting the job done. And it's because of your high success rate that they're willing to cut you some slack. However, you've been more than a little snippy lately, and this could result in others biting back on Wednesday. This would be your cue to brush up on your people pleasing skills. Start by using the words "please" and "thank you." They can make a world of difference.

TAURUS (April 19-May 19)
You entered into a business negotiation in good faith, but on Tuesday it will look like that good faith was misplaced. It's tricky because the other party really does have the upper hand, and they can change the terms as they please. It's difficult being a hair's breadth away from what you want. But one person's deal with the devil is another person's price for success. Ask yourself if you can live without this. If yes, then it would be a good idea to get out while you can.
---

GEMINI (May 20-June 19)
You're a master at cutting costs. If anyone can shave off a penny to make a dollar, it's you. But you can only cut corners for so long before the quality begins to suffer. You won't like the fee being quoted on June 11, but this is what it costs to take your business to the next level, to make those home improvements or to go back to school. Work out a payment plan. Knowing you, you're bound to find a loophole that will work to your advantage.

CANCER (June 20-July 21)
You won't let go once you've grabbed hold. Thankfully what you grabbed hold of was a one-of-a-kind project, a piece of property in an up-and-coming neighborhood or the coattails of a client whose star is on the rise. You put your faith (as well as your dollars) into this when others shied away, and you will see that tenacity pay off on Tuesday when Saturn forms an extremely rare trine to Neptune. But it won't stop there. This wellspring of good fortune is just starting to bubble.
---

LEO (July 22-Aug. 21)
Some ideas you can resuscitate, and some ideas are better left to expire on their own. That project or venture you're struggling to breathe some life back into on Tuesday is one that you should let go, but it looks like you're still convinced that you can do something with it. You can't. Not only has its time passed, but you're in danger of missing out on an opportunity that will materialize at the end of this week or the beginning of next. Switch gears before it's too late.

VIRGO (Aug. 22-Sept. 21)
The first quarter moon on Sunday is a very powerful one for you. Now that may leave you scratching your head because it falls on Father's Day, and who works on Father Day? Not all power meetings take place in boardrooms. Sometimes they happen around the barbecue, at the beach or while standing in line at the returns counter because Dad wasn't into that wild and crazy tie you bought him. Be ready to take down that valuable name or contact number. It's the "in" you've been looking for.
---

LIBRA (Sept. 22-Oct. 21)
It's clear that you're not your boss's favorite, but you're not his least favorite either. You're in the middle, but somewhat elevated. Ironically what's lost on him is completely obvious to everyone else. Clients and colleagues couldn't be more praiseworthy. But your boss has a blind spot and, try what you will, you're just not going to get around it. If you're happy with things as they are — great. If not, then look into transferring departments. Planetary aspects on the 19th and 25th support a change of scene or venue.

SCORPIO (Oct. 22-Nov. 20)
This is an amazing time with Saturn forming a trine to Neptune this week. Neptune is the planet of the imagination. Dreamy and romantic, it can lead you to build castles in the air. Saturn is a nuts and bolts planet. It pushes you to find the bricks and mortar so that you have something to show for yourself at the end of the day. When these energies combine in a trine, then you'll be able to make something substantial of your creative vision and get paid for it.
---

SAGITTARIUS (Nov. 21-Dec. 20)
You're not sinking, nor are you going to feel like you're getting anywhere this week. And that's all right. There's nothing wrong with dog-paddling in place for the next tenish days. Meanwhile a demanding boss or client is bound to put your nose out of joint on Friday. It's to be expected while combative Mars is traveling through Gemini. Remember that it's still somebody else's game until you get your financial house in order, which means that you'll have to grin and bear it until you can turn the tables.

CAPRICORN (Dec. 21-Jan. 18)
You're working with some talented people. Unfortunately they're going through rough times in their personal life, and they're tracking that mud into the office. What's needed is compassion mixed with direction. Narrating all the things they're doing wrong won't improve the situation, whereas expressing compassion, while reminding them of their commitments and deadlines, will. They won't like being pressured, so be ready for some pushback on Wednesday. Nevertheless it's up to you to show them that channeling energies into something constructive is better than wallowing in the mire.
---

AQUARIUS (Jan. 19-Feb. 17)
There are some people who are going to make the grade, and some who will not. Thankfully you have nothing to worry about; however, the same cannot be said for some of your co-workers. Expect a series of pink slips and notices to make the rounds on Tuesday and Wednesday. You will want to be there for them with a sympathetic shoulder to lean on and words of advice. Morally you will be outraged of course, but you can also see how streamlining improves efficiency and bolsters future prospects.

PISCES (Feb. 18-March 19)
When's the last time you asked for a promotion or raised your rates? You might want to float out the idea to your boss or clientele. You don't have to campaign or get pushy, because your record and loyalty speaks for itself. People know that you deserve more. But don't expect an immediate answer. If anything you'll want to go back and forth a few times until you find the right fit — which will either materialize on the 25th or when Mercury comes out of retrograde on July 20.
More horoscopes
Your weekly love horoscope
Your weekly horoscope
Your annual love horoscope for 2013 
---
The opinions expressed in this article are of the author and the author alone. They do not reflect the opinions of SheKnows, LLC or any of its affiliates and they have not been reviewed by an expert in a related field or any member of the SheKnows editorial staff for accuracy, balance or objectivity. Content and other information presented on the Site are not a substitute for professional advice, counseling, diagnosis, or treatment. Never delay or disregard seeking professional medical or mental health advice from your physician or other qualified health provider because of something you have read on SheKnows. SheKnows does not endorse any specific product, service or treatment.