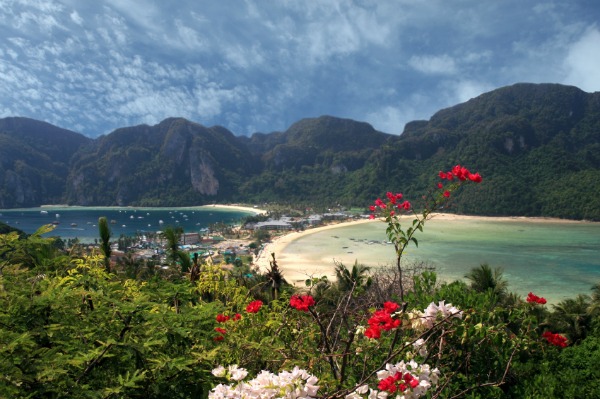 The basics
Stunning Ko Phi Phi is actually comprised of six islands of varying sizes, but the most populated and best option for travelers is Ko Phi Phi Don. If you want to feel like you've stepped into a postcard, then the towering, craggy limestone cliffs rising out of aquamarine water that surround Ko Phi Phi will immediately draw you in.
Getting there
There are daily ferries to Ko Phi Phi from nearby Krabi and Phuket. We traveled from Phuket in just under two hours (the journey from Krabi is slightly less). Ferries run a few times a day, and tickets can be purchased at the pier from some guesthouses or from most tour operators. You'll arrive at crowded Tonsai Bay, which is chaotic and noisy, especially during high season (December to March). Don't let the less-than-idyllic vibe deter you, there are plenty of quieter areas to choose from, some of which can only be accessed by boat.
Where to base yourself
Once you disembark from your ferry, you'll be greeted by touts trying to get you to stay at the hotel or resort they work for or boat operators hoping to ferry you to your hotel if necessary. To ensure staying somewhere that works for your budget and comfort level, it's best to book ahead during high season. Accommodations vary from luxury to midrange to basic backpacker digs.
Before you book, you'll want to decide what's most important to you — being close to the action (bars, lots of other tourists), or having a quiet beach vacation. If it's action you're after, look for something in Tonsai Village where you disembark. If a more peaceful trip is what you're after, some of the other beaches will be a better bet. We chose Long Beach, a beautiful and peaceful stretch of sugar-white sand set against turquoise water. Long Beach is a good option since it doesn't have the noise and party atmosphere of some other beaches but is still close enough to them should you feel the need for some more excitement.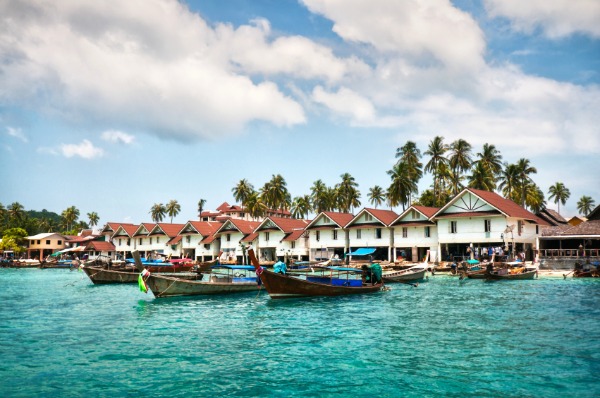 What to do
Ko Phi Phi was made for avid beach-goers and anyone who loves to be by the water. Whether you just want to swim, soak up the sun (while wearing sunscreen, of course) and sip beer under an umbrella on the beach, or you're more into what can be found under the water and around it, there are ample opportunities to both relax and explore.
Ko Phi Phi offers excellent snorkelling, and you can snorkel right off the beach at Long Beach (most guesthouses and hotels rent masks and fins). You can also organize snorkel trips further afield, either through your hotel or on your own, with any number of long tail boat operators who are often eager to transport snorkelers. There are also several dive operations on Ko Phi Phi if exploring deeper underwater is more your speed.
Maya Bay (you might recognize it from the film The Beach) is a must-visit during any trip to Ko Phi Phi. While crowded, the aforementioned cliffs jutting out of emerald water are on full display here, and you can't help but feel like you're in paradise as you float in the water, staring at the stunning scenery all around you. Long tail boats can take you there.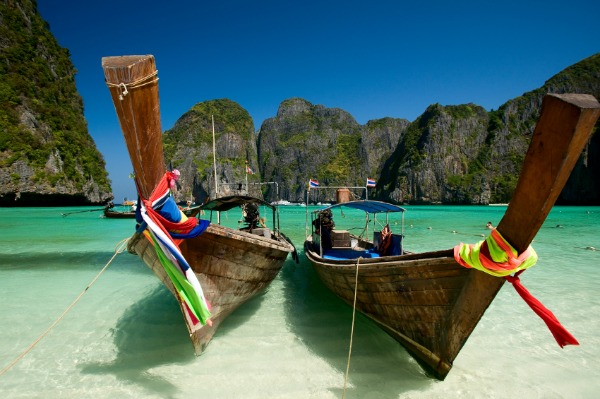 Next up:
Pack your bags and join us next time when Frequent Flier heads to Borneo.
More travel tips and trends
A fashionable weekend in Philadelphia
Frequent Flier: How to visit Angkor Wat in Cambodia
Checking In: Health and wellness escapes