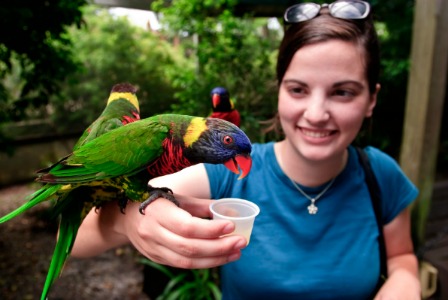 Children of all ages love going to the zoo — and parents love that they're affordable. Check out the top eight zoos in the U.S. most suitable for kids!
Best zoos for your little ones
Which qualities make a zoo kid-friendly? To us, it's having a good amount of exhibits, a variety of animals, a petting or feeding area and interactive attractions that create a learning experience for your little one. Parents also want the zoo to be safe, stroller-friendly and affordable. Out of all the zoos in the U.S. (that would be 350!), we found the top eight that your kids are sure to love!
1
Tampa's Lowry Park Zoo — Tampa, Florida
The zoo of all zoos — voted number one by Parents Magazine — is Tampa's Lowry Park Zoo. This zoo is all about giving your kids a memorable and fun learning experience. A few of the interactive exhibits include feeding giraffes, feeding white rhinos, a discovery center featuring frogs and toads, a live stingray exhibit and more! There are water playgrounds, rides and even mommy areas where you can rest or nurse your little one.
2
San Diego Zoo — San Diego, California
Head out west to the San Diego Zoo — one of the only zoos where you can see giant pandas, a treat for both you and the kids. The zoo features more than 3,700 rare and endangered animals and over 700,000 exotic plants. The kids especially love the children's zoo — where dozens of animals have received advanced training, so the kids can get up close and personal with them!
3
Phoenix Zoo — Phoenix, Arizona
The Phoenix Zoo offers loads of activities to keep the kids busy all day long. And with gorgeous weather eight months out of the year, this Phoenix zoo can't be beat! Kids can meet giraffes, take a ride on a camel, visit the petting zoo and burn off some energy at one of the playgrounds.
4
Minnesota Zoo — Apple Valley, Minnesota
The Minnesota Zoo is one both kids and adults will love. With over 2,300 different types of animals, including penguins and dolphins, this experience won't be easily forgotten. This summer is the return of two incredible exhibits — Africa! and the all new Dinosaurs! — certain to entertain the kids. Make sure to stop by the Splash Pad so the kids can cool off midday.
5
Smithsonian's National Zoo — Washington, D.C.
Kids love that they can meet the animals, and adults love that admission is free! Coupled with the fact that many of the exhibits are indoors (D.C. is humid!), the Smithsonian's National Zoo is a family favorite! Kids can even go on scavenger hunts and play bingo while visiting the 2,000 individual animals.
6
Oklahoma City Zoo — Oklahoma City, Oklahoma
Kids love all the exhibits that the Oklahoma City Zoo has to offer. Favorites include the Butterfly Garden, Children's Zoo, Elephant Habitat and Island Life. Kids can also feed giraffes, ride a carousel, watch a sea lion show, play at the Jungle Gym Playground and paddle through a lake in Swan Paddleboats! Entertainment all day long — and we love it!
7
Memphis Zoo — Memphis, Tennessee
The Memphis Zoo has more than 3,500 animals and dozens of different exhibits to entertain the kids. The top exhibits include the Crocodile Cove, African Veldt, Primate Canyon and Cat Country. The kids will also love the Once Upon a Farm exhibit where they can view farm animals, and take a scenic ride around the perimeter.
8
Houston Zoo — Houston, Texas
The Houston Zoo is one of the most visited zoos in the United States, and with everything it has to offer, we see why. Kids love the Reptile and Amphibian Building, the Wildlife Carousal and, of course, the Children's Zoo — which features a bat cave, prairie dog tunnels, a petting section and more!
More children's travel
Best vacation spots for babies and toddlers
Top travel toys for kids
Simple tips for road trips with kids