Tried And Tested!
Chances are, if you have a smartphone, then you've played Angry Birds at least once or twice. But what if this game came to life? Creating a life-size Angry Birds game is actually easier than you might think. Just try these handy pointers, and you'll be launching those birds before you know it!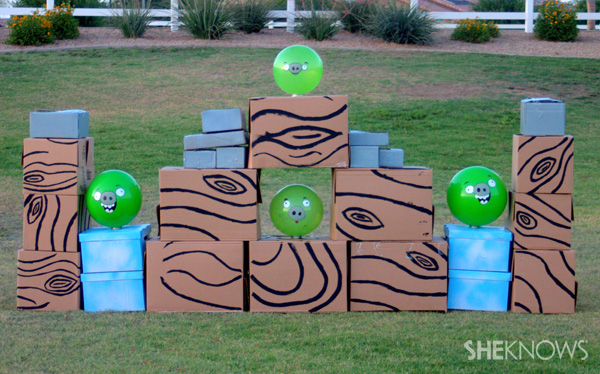 If you're in need of a creative game for an outdoor get-together, then start stashing those boxes away now. Life-size Angry Birds is an inexpensive game that is fun for the whole family, and the best news is that it doesn't cost hardly anything at all!
Supplies:
Boxes (And lots of them!)
Spray paint (We recommend white, blue and gray. Quantity will vary based on the number of boxes, but on average, 1-2 cans of each color.)
5 Large green bouncy-balls
3 Small red bouncy-balls
3 Small blue bouncy-balls
1 Large yellow bouncy-ball
Acrylic paints (Black, white, yellow, red, and light green)
Paint brushes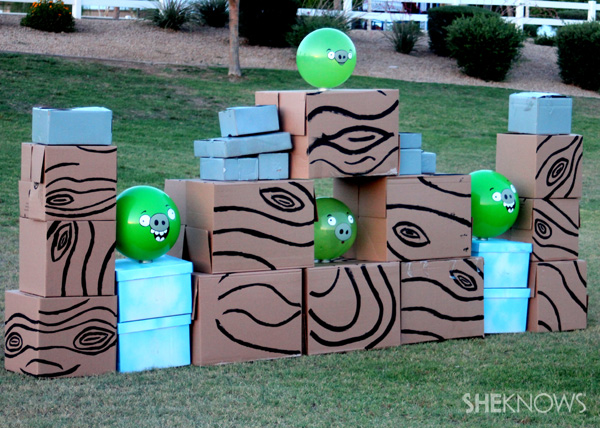 Making the game stand
Creating the platform for your game is the easiest part. To do this, simply collect boxes or purchase moving boxes from your local superstore. On average, moving boxes cost around $1-$2 each, so picking up a handful of them is still very budget-friendly. Here we've shown a combination of different types of boxes collected over time. They include paper-pallet boxes from the office, shipping boxes from our latest Amazon purchases and, yes, we even used a few cereal boxes to make our Angry Birds game!
Once you've collected enough boxes, decide which boxes will become the various pieces of your game. Use the white and blue spray paint to turn some of the boxes into ice-cubes and your gray spray paint to turn smaller boxes into stones. Then to bring it all together, use black acrylic paint to draw wood-grain designs onto the remaining boxes.
Making the birds & pigs
Getting the character faces onto the bouncy-balls is slightly more challenging, but still simple enough for anyone to try. Don't worry about how artistic you are. We've learned a little trick to get those angry faces into place.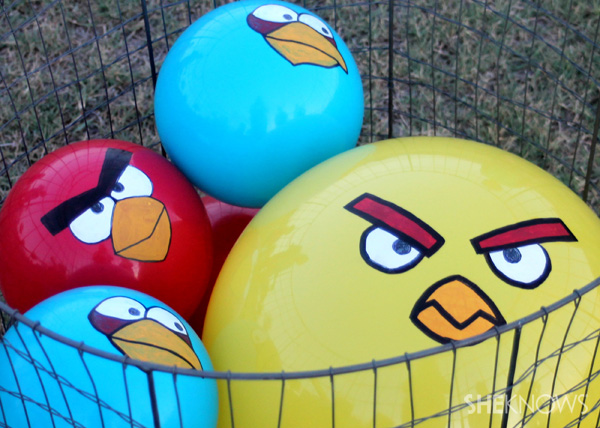 Find an image online to print out as a template. Cut your image out and use a marker to trace its shape onto the surface of your ball.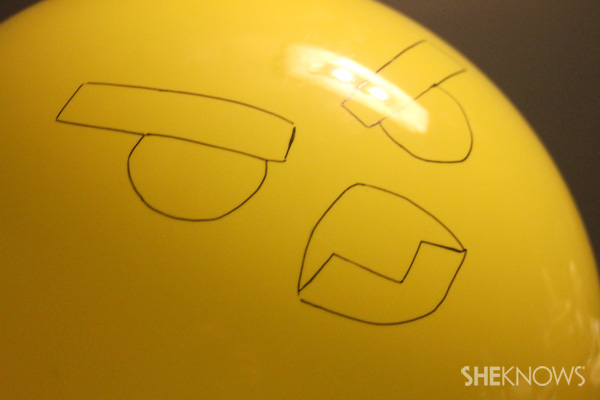 Fill in inner lines using your printed template as a reference. If needed, you can even cut your template down again to get the shapes that you need to fill in the gaps.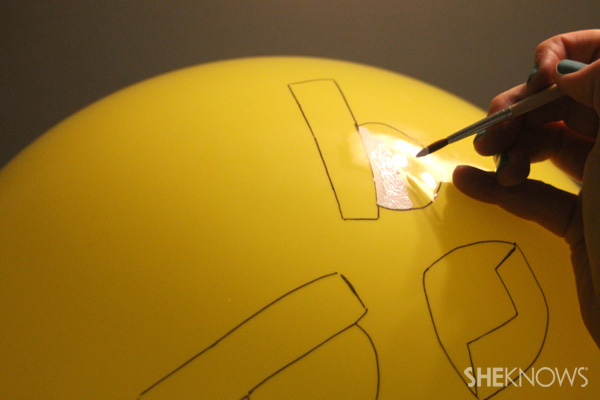 Use your printed template image as a reference for colors, and then use your acrylic paints to color in the shapes on your ball. Allow to dry before adding a second coat.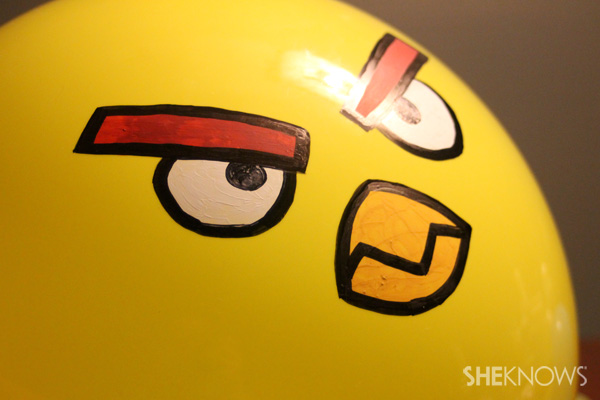 Once your paint is dry, use your marker to outline the shapes, and you're done!
How to play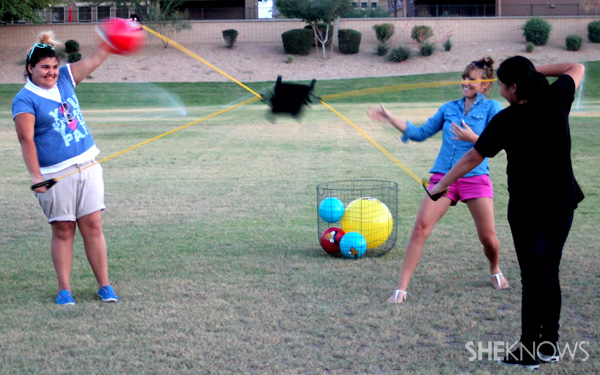 Stand approximately 10-15 feet away from your Angry Birds set up, pull back on the launcher, and let those birds fly! You will need adults (or teenagers) to hold the straps for the launcher, so we recommend taking turns. Allow each player to launch the full set of birds before moving on to the next player. Whoever can knock down the most pigs is the winner!
Game tips
SheKnows put this game to the test, and we found a few things that all Angry Bird gamers should keep in mind. For a successful live Angry Birds experience, take a look at these helpful tips.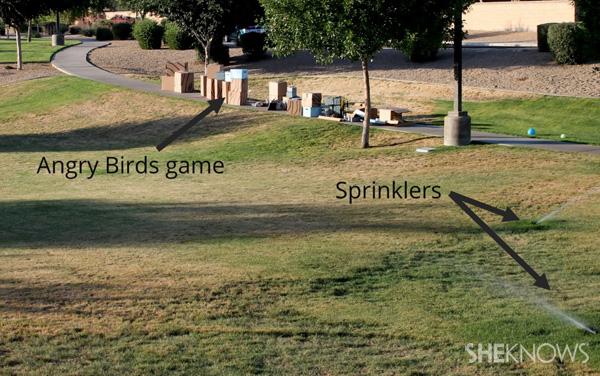 Beware of sprinklers
We found these water-blasting launchers to be a real game-kill! Before planning your Angry Birds outing, we'd recommend scouting your location at the times you plan to play to pick up on the times when the sprinklers come on.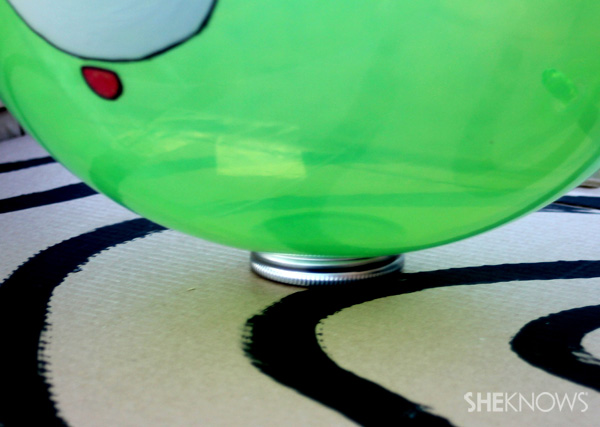 Keep those pigs upright
A little tip that worked for us... mason jar lids! Use them as stands beneath each of the pigs to keep them from rolling around. They work great, because they still allow the pigs to fall when enough force is applied.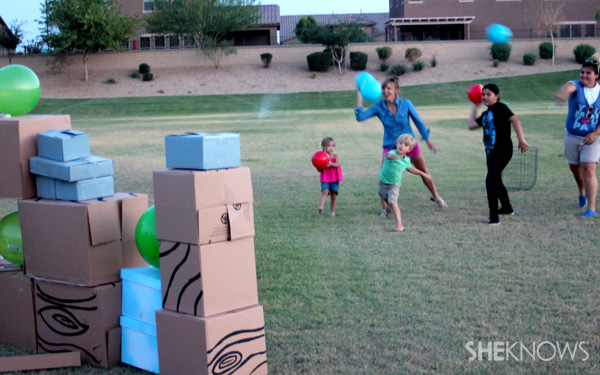 Fun for the little guys
We found that the launcher was not entirely kid-friendly. It takes a good amount of coordination and perfect timing to get those birds to launch. Because of that, we recommend allowing young children to simply throw the balls at the set up. They seemed to be just as happy with this option when we tested it ourselves.
More outdoor fun ideas
How to make an outdoor Twister game >>
How to make super-sized checkers >>