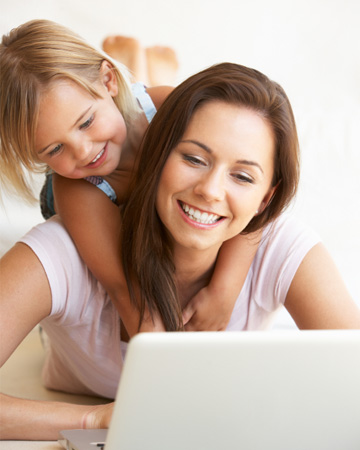 career
as a role model
Having a nontraditional career as a work-at-home mom is packed with invaluable opportunities to teach our kids about their own future professional choices. In this issue of Working Mom 3.0, writer Stephanie Taylor Christensen explores the lessons all work at home moms should pass on about work and family.
Growing up, my dad (who was self-employed and the hardest worker I've ever met) preached one professional axiom to my sister and I: Get a good education and a secure job. Not suprisingly, that's exactly what I did. But unlike my father, I had a college and graduate-level education, and no one except myself to support financially until I was in my 30s. I started my career in the midst of the dot-com era, a time that made millionaires and billionaires out of 20 year-old kids and led young professionals at the time to realize that if you can dream it, you really might be able to do it — on your terms. Thanks to technology, my generation also had a luxury of choice that our parents never had: work-life balance and remote work options.
Like many work-at-home moms, the birth of my child was a catalyst to my realization that salary and professional stature doesn't make up for life's priceless moments. In my pursuit of the stability my father preached, I failed to include personal fulfillment in my career decisions. While I can't fault my dad and his generation for their attitudes, I can't help but wonder what choices I would have made, had I had been taught to follow my heart more than a paycheck.
For all its challenges, being a work-at-home mom offers a powerful opportunity to teach our own kids how their choices can contribute to their long-term happiness as grown ups. With every new path we forge in our nontraditional careers, we are given invaluable lessons that we can, and should, pass on to our kids.
1
Title doesn't mean a thing
"What do you want to be when you grow up?" is such a common question to ask of kids, but conditioning them to focus their futures on a category, like teacher, doctor or astronaut, leaves out a key piece of the puzzle all work-at-home moms know is critical to life's meaning. Instead of asking our kids to set goals based on titles, ask them to imagine what they want their life — at work and at home — to be when they grow up.
2
If you love your job, you don't mind doing it
Most work-at-home moms take some kind of career hit in the transition, but we keep at it because we love what we do. Use it as an opportunity to teach kids about their own passions and cultivate the hobbies and interests they do out of choice, whether it's sports, reading, gaming on the computer, or crafting. While that doesn't mean they can ditch the math homework, leading by this example can help them dream big and realize a greater meaning behind everything they do.
3
Anything worth doing won't come easy
Whether you hide your stress well or wear it on your face for the world to see, being a work-at-home mom exposes a truth your kids can learn from: Anything that is worth having takes hard work. When kids struggle with homework, friends, and activities, remind them.
Your work-at-home mom gig may very well mean that your life has undergone a "downsize" of sorts, and your kids may not have the latest and greatest of everything their friends with two working parents have. Use your career to remind your kids that everything in life is a trade off. Though they may not have all the material items their little hearts desire, they have more time with you. (Even if they don't agree now, they'll one day realize it was an invaluable benefit)!
Working Mom 3.0
The modern woman is redefining what it means to have a successful career. Rather than feeling torn between climbing the corporate ladder and having a happy family life, many women are choosing to merge the two and transition their careers from a traditional role to a more flexible one. Working Mom 3.0 is reinventing the definition of "working mom" as office hours are held at home and revolve around nap times.
This column begins by chronicling the experiences of Stephanie Taylor Christensen, a former marketing professional turned self-employed stay-at-home mom, writer and yoga instructor as she strives to redefine "having it all" on her own time and terms.
More tips for working moms
Working Mom 3.0: Surrending to summer
Working Mom 3.0: Managing money woes
Working Mom 3.0: Expanding business and family
---
The opinions expressed in this article are of the author and the author alone. They do not reflect the opinions of SheKnows, LLC or any of its affiliates and they have not been reviewed by an expert in a related field or any member of the SheKnows editorial staff for accuracy, balance or objectivity. Content and other information presented on the Site are not a substitute for professional advice, counseling, diagnosis, or treatment. Never delay or disregard seeking professional medical or mental health advice from your physician or other qualified health provider because of something you have read on SheKnows. SheKnows does not endorse any specific product, service or treatment.