Don't Let Water Destroy Your Technology
With tablets becoming more portable and smart phones doubling as MP3 players, it's more common than ever to take electronics everywhere you go. Learn how to keep your favorite gadgets safe from water damage as you enjoy them outdoors.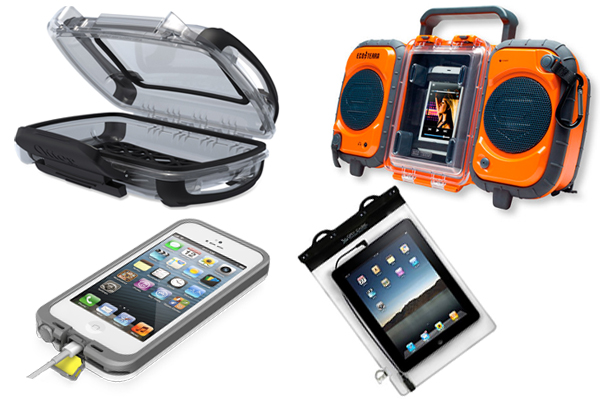 These days, reading a paperback by the pool usually means toting an expensive tablet or ereader. Don't let a stray splash ruin your summer. We've got the best gear to keep your tech safe and dry all summer long.
If you plan on boating, hitting a water park or hanging out in a splash zone, travel with a portable dry box. A small OtterBox dry box can hold your phone, a small camera or MP3 player with room for cash and keys. Look for a dry box that attaches to a clip so you can keep it fastened to a bag or keychain. A small dry box is a must-have for sports like paddleboarding or kayaking. (REI, $20)
2
Get loud with waterproof speakers
Is your phone stocked with all of your favorite music? Take your tunes to the beach or poolside with a waterproof boombox. The new Eco Terra Waterproof Speakers keep your phone and a few loose items safe and dry. This cool set of speakers even floats, making it a great choice for boating or tubing this summer. Bright orange and lightweight, this is your ultimate beach gadget. (L.L. Bean, $150)
3
Take your phone under water
Unable to part with your iPhone? Thanks to cutting edge, lightweight waterproof cases, you can take your phone right into the pool. Use it to take photos and video underwater, to check your email from a raft or to watch your favorite shows right from the hot tub. For parents who love photographing splashing kids at the pool, the LifeProof Case is a must-have.  (Lifeproof, $80)
4
Read and surf at the pool
Want to read a smutty book at the pool without anyone knowing what you're doing? We won't judge you. Just make sure you protect the goods with a splash-proof case that lets you enjoy every page without ruining your favorite ereader. Dry Case works with your Kindle or iPad and has a headphone outlet so you can still listen to audiobooks, music or other media while enjoying the sun and surf. (Swim Outlet, $46)
More fun technology
Top new smartphones for 2013
5 Must-have accessories for your gadgets
Gadgets to take with you on the go